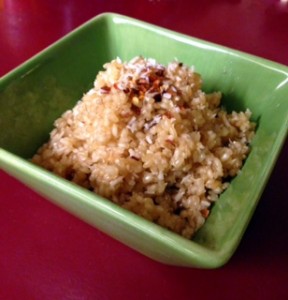 •2 cups Brown Basmati Rice
•2/3 cup coconut, dry grated/dessicated
•3 1/2 cups water
•1 teaspoon sea salt
•1/2 teaspoon cayenne pepper, powdered
•1 Tablespoon grapeseed or virgin coconut oil
Cook in a rice cooker until water has been absorbed. The finished texture should soft but not gooey and and easily separating with a fork. Serve warm, room temperature, or chilled.
Super simple, yummy AND goes great with the coconut curry soup recipe on page 81 of the 2014 WellBEing Resource print edition (pick one up for free at places listed 
HERE
).
Thank you
Baagan
for submitting this recipe 🙂 Check out Baagan's amazing, fresh food at 910 Pleasant Grove Blvd #160 in Roseville, CA Open M-Sat 8am-8pm and Sun 9am-6pm.
www.baagan.com