Cycle Devotion: Menstrual Cycle Mindfulness as a Spiritual Practice
June 11 @ 3:00 pm

-

8:00 pm

$88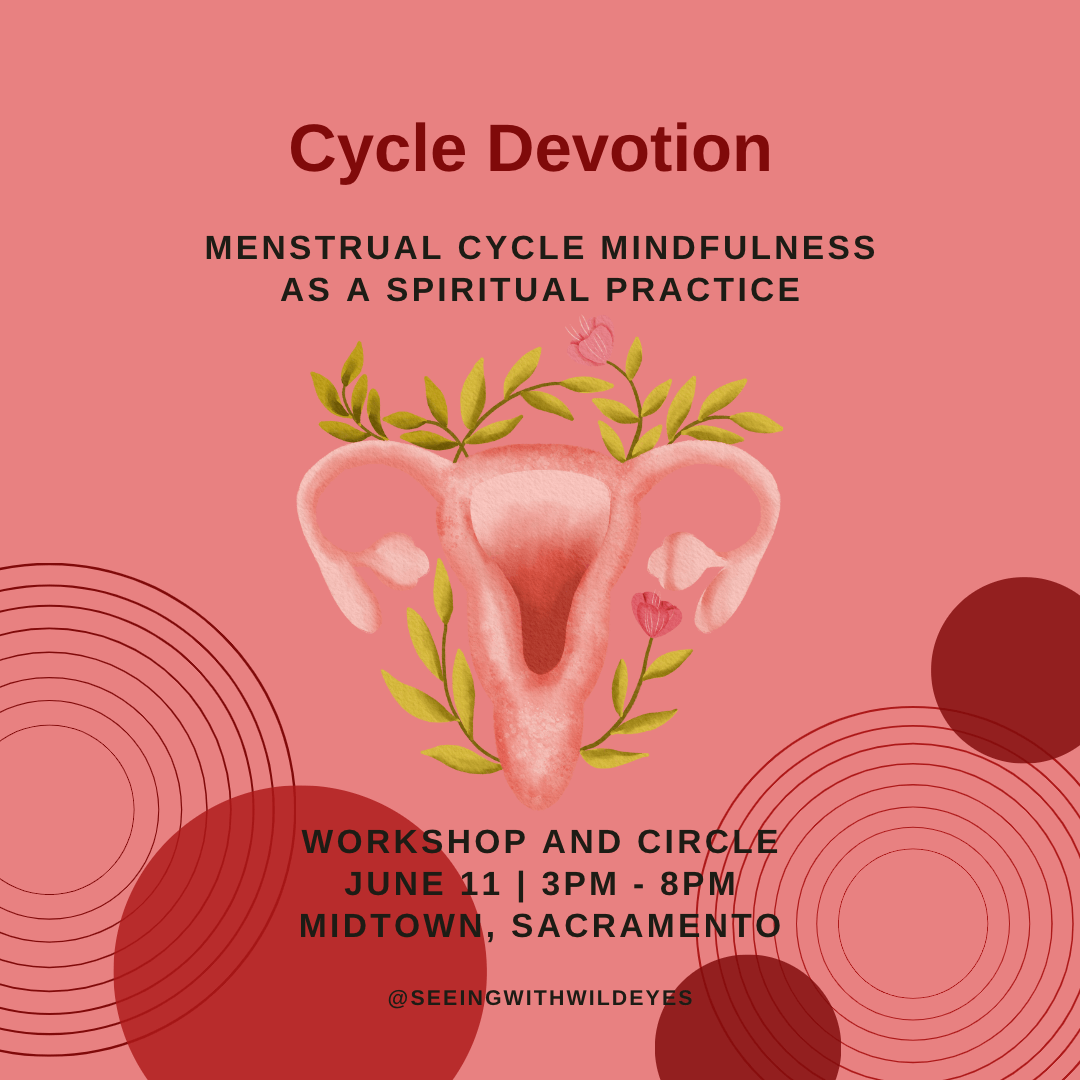 Your period doesn't have to feel like a nuisance.
It doesn't have to make you feel crazy, unreliable or unstable.
Your body isn't betraying you.
Are you tired of feeling disconnected from your body and its needs? Do you struggle with managing the physical, mental and emotional symptoms of your menstrual cycle? Are you looking for a way to tap into your creative potential and enhance your overall well-being?
If this sounds like you, I invite you to attend Cycle Devotion: A Menstrual Cycle Mindfulness Workshop.
Many people with periods today feel disconnected from their bodies and struggle to manage the physical, mental and emotional symptoms of their menstrual cycle. They often feel like they're in a constant battle with their own bodies, and this can lead to stress, anxiety, and even depression.
But it doesn't have to be this way. Cycle Devotion is designed to help you develop a deeper connection with your body and harness the power of your menstrual cycle for greater well-being and creativity. In fact, I invite you to consider that your natural flow can actually be your greatest ally, spiritual mentor, and personal transformation guide. I want to show you how.
Cycle Devotion offers a transformative learning experience that can help you:
Improve self-awareness: By tracking your menstrual cycle and paying attention to your physical, emotional, and psychological changes, you can become more aware of your own needs and desires.
Manage symptoms: Menstrual cycle awareness can help you identify and manage symptoms associated with menstruation, such as cramps, bloating, cognitive changes and mood swings.
Enhance creativity: By aligning your activities with the corresponding inner seasons of your menstrual cycle, you can tap into your creative potential more effectively.
Improve relationships: Understanding and honoring your own needs during different phases of the menstrual cycle can help you communicate more effectively with your partner, family and colleagues and reduce conflict.
Develop healthy productivity: By aligning your work schedule and activities with your menstrual cycle, you can improve your energy and develop productivity according to your own rhythm throughout the month.
Cycle Devotion is more than an overview of your hormonal changes throughout the course of your cycle. I firmly believe that our natural rhythm is the heartbeat of our lives, and when we step into flow with it, we unleash a power that is instinctual, embodied and wholly our own.
When we learn to honor the cycle that we have and trust the wisdom of our bodies, we get access to our greatest source of spiritual strength and creative genius.
Menstrual cycle mindfulness is the entry point. Becoming devoted to our inner rhythm is is a path to vital self-love, expansion, self-expression, and purposeful leadership.
Cycle Devotion can help you find that for yourself.
Together we will:
Learn the archetypal energetic, psychological and spiritual characteristics of each season of your cycle.
Reflect on your personal experience of your inner seasons and where you can get the most healing.
Practice embodied mindfulness exercises for self-care and empowered expansion.
Create a personalized Cycle Care Plan for your next three cycles.
You'll gain the tools and techniques you need to develop a deeper connection with your body and transform your menstrual cycle from a burden into a source of strength and creativity.
Don't let another month go by feeling disconnected and overwhelmed. Sign up for our Cycle Devotion today and start your journey to greater well-being and creativity!
Disclaimer: I am not a medical professional and this workshop is not medically or biologically focused. While I will share some of the biological and physical aspects of menstruation, this workshop centers the psychological, spiritual, and creative aspects of menstruation.
A note about my facilitation philosophy: I am committed to creating brave spaces where people feel they have access to safety through their consent and choice. I aim to create supportive, experiential, and active environments that center your life experiences and wisdom.
I am committed to creating inclusive environments that welcome all bodies, expressions and life experiences. I am committed to knowing better and doing better. I created this workshop to be inclusive of anyone with a uterus, regardless of gender expression or menstruation status. Pre-menarche, peri-menospausal and post-menopausal people are all welcome.
Related Events