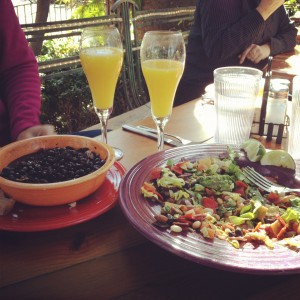 I enjoyed some time at the historic Tower Cafe located at 15th & Broadway in the heart of Sacramento ~ always a great place to go on such a beautiful day like today (Tower has an amazing outdoor eating area with plants, flowers, and a huge nearby water fountain)!
We found several healthy and vegetarian options: Nicaraguan Black Bean Soup and Tecoluca Salad (Pinto, white, and black beans marinated in a smoked chipotle & orange vinaigrette then tossed in salad greens with corn tortillas, cilantro, onion, tomato, avocado and wedge of lime). Other great lunch items include their Earth Burger, East African Veggie Burger, and Roasted Garden Vegetable Sandwich (see more here).
We also toasted to Tower's yummy Mimosa's in celebration of each others joyful manifestations and bliss. Cheers!