(See Spiritual Coaching & Counseling HERE).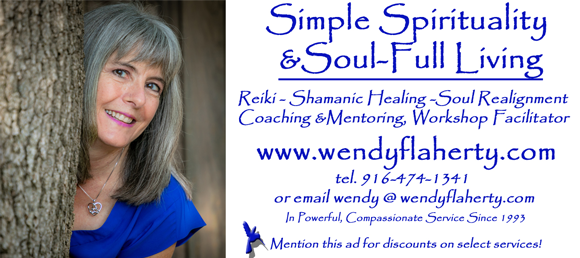 Beatrice Pizer, Shamanic Practitioner & Teacher
530-409-2234 • Placerville, El Dorado
As a trained shamanic practitioner, I partner with my Spirit Allies to bring you compassionate, deep healing. I listen with my heart; I care about what's up with you right now. My work is Spirit led and creative, guided by your needs. A session may include Shamanic Counseling, Soul Retrieval, Extraction, Spirit Release, and more. Be ready for profound change: a deepening of trust; a life that holds more meaning; opening to the potential of your own unique gifts. Mention WellBEing for a free consultation. beatricepizer@sbcglobal.net • beatricepizer.com

Diane Hovey, PhD. – Transformational Healing
Hawaiian Shamanic Tradition – Lapa'au
916-925-8200 / 916-965-6558 • Fair Oaks
Healing, whether of the body, mind, or spirit comes from within. Together, through a blend of disciplines that meet your unique needs, we will discover and unlock the doors that stand between you and who you were born to be. The work may involve soul retrieval, past life / between lives regression, and Hawaiian Lapa'au. The foundation of the work we do together stands upon a masters in counseling psychology from the University of Hawaii, certification in medical hypnotherapy, and training in Hawaiian healing from the last of the Po-okahuna bloodline kahunas, David Kaonohiokalua "Daddy" Bray. The results are rapid and deeply profound.  Diane@Transformational-Healing.net • Transformational-Healing.net


Jennifer Mckernon, Spiritual Alchemist, Ascension Mentor
Shamanic Healer, Grief Facilitator, Visionary Artist
916-969-2857 • Greater Sacramento & Remote 
All who work with me experience a stirring of the spiral staircase into their own ascension… from wherever you are now, to a higher understanding and accepting of life's circumstances. I can help you trust your inner guidance and help you heal your inner spirit.
Mention WellBEing to receive a 1-hour session for just $50 (new clients).
Wildlifewish@gmail.com