Hi Laurie! Thanks for doing this interview. I wanted to share more about what you offer as I really enjoyed my own personal Watsu® session with you!
So that the community is clear, please share what do you offer….
I float, massage, stretch, and swirl people in my beautiful warm-water pool, a completely different dimension of relaxation known as "Watsu®" (water + shiatsu). The pool, surrounded by tropical plants, is enclosed in a large white yurt dome for privacy and colorful floral wall hangings bring a touch of Hawaii to this sacred space.
What led you to offering that?
Warm-water massage (both giving and receiving) relieves my pain and stiffness from arthritis and fibromyalgia and greatly reduces any emotional stress I'm feeling. How many people do you know that feel better after working? I wanted to share this blessing with everyone.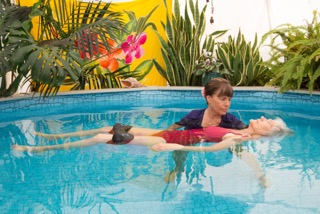 What do you love most about what you do?
The moments of quiet stillness in the pool, the person relaxed in my arms, his or her face released from pain and looking innocent and luminescent.
What inspires you?
The heartfelt gratitude from people following a session.
What are you looking forward to in the future?
I'll be taking a new class this summer called Waterdance where people experience the magic of being an underwater "dolphin". The client is given nose clips, then gradually and gently is taken entirely under the water. Once freed from the bounds of head support and gravity, the client"s body can be moved, stretched, and worked into literally unlimited ways. Waterdance incorporates elements of massage, Aikido, dolphin and snake movements, rolls, somersaults, inversions, dance, and much more. The effects of this work include physical release and can induce deep states of relaxation, meditation, bliss, and even visions. I'm so excited!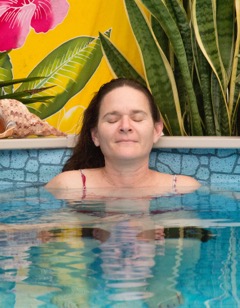 Sounds awesome! Why do you like being a part of WellBEing Resource?
The directory is so well done and beautiful!  It's really the finest local resource for putting all the area's alternative healthcare providers together. Plus, when I "google" myself, my listing in the WellBeing directory comes in at the top!
Awesome ~ Thanks Laurie! 
Laurie is located in Davis, CA (just 20 minutes from downtown Sacramento).
Get in touch with her by calling 530-219-5118 or visiting LovingAquaticMassage.com