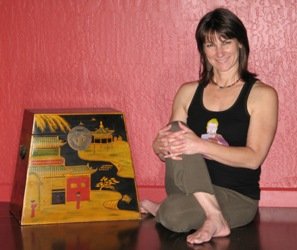 Ann DaPrato ERYT-500, shares with us her journey to and through yoga and her unique offerings at Rise Yoga Studio in the Greenhaven area of Sacramento, CA.  Check out the interview below and stop by her studio sometime: Mention WellBEing Resource for a FREE yoga class and other special offers available for new students to the studio…
Jill: When did you first fall in love with yoga?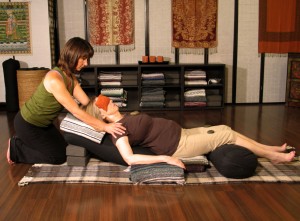 Ann: I started practicing yoga when my two daughters got old enough to be busy without me (no need for Mom the chauffer). I decided it was time to do something for myself. At that time yoga in Sacramento was in its infancy, and there weren't many places to practice, all I knew about yoga was that it was supposed to be "good" for you, but as soon as I started moving and breathing through the asanas in class, I was hooked. I loved the movement with awareness and intention. As my practice grew, I started to sense there was something more going on than asana, that it wasn't all physical. I started doing some research and investigation on my own by reading books and attending workshops. Thus began my journey into the subtler practices, the philosophical aspects and lifestyle applications of yoga. When all the pieces fell into place is when I truly fell in love with yoga. 
Jill: What inspired you to start sharing and teaching yoga? 
Ann: It's my dharma, I serve people by giving them tools and techniques to see themselves clearly, so they can take action to create their best self and best life.  Once I established my own yoga practice, it was natural progression and expression of my dharma to teach yoga to others. However, the real spark of inspiration to teach yoga came from my good friend and teacher Stuart Rice, E-RYT-500. Through his seamless weaving of philosophy, mythology and physical practices, I experienced the benefits of a balanced yoga practice. Yoga offers so many wonderful practices that just make life better, from the physical, to philosophical, to spiritual aspects. It's always been my heartfelt desire to enhance the lives of those around me and yoga does it so perfectly.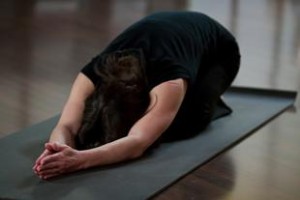 Jill: What is your favorite style to teach and why? 
Ann: Like a lot of teachers, I started out teaching Vinyasa Yoga primarily as an asana based class. Throughout the years as my personal growth has evolved, and at the necessity of owning a yoga studio, I now believe the format of the class is more important than the style. Classes should be balanced in the various aspects of yoga such as asana, pranayama, mantra, meditation and of course something to reflect upon. One of my favorite styles to teach is Kundalini Yoga. It's an extremely transformative practice that offers the practitioner all aspects of yoga, not just asana. 
Jill: You teach a very unique class that I have taken and really enjoy called"Restorative Yoga with Hot Stones". Describe the class and what inspired you to start offering it. 
Ann: I am so glad you enjoyed the class, Jill. Restorative Yoga with Hot Stones is one of the cornerstones of our philosophy to offer health and healing to each student we serve. It is a deeply relaxing class for the body mind and spirit. We can't be our best selves until we understand and practice the art of relaxation. It is an essential tool for maintaining health and vitality. Restorative classes use props such as blankets, bolsters and blocks to sustain supported yoga postures effortlessly for extended periods of time. We then apply hot stones to various parts of the body to impart their deeply radiant heating effects, allowing the body to utilize the energy from the stones to assist in relaxation and healing. Restorative Yoga is beneficial for everyone regardless of age or experience, and is recommended during pregnancy, during life transitions, to heal illness or injury and to reduce the stresses of daily life.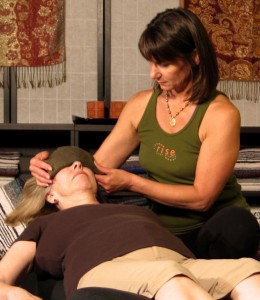 Jill: You also teach many philosophy based yoga studies/series. Please give a general overview of what is offered: 
Ann: I have a passion to enrich people's lives, to help them feel better, function better, and take action grounded in their own personal dharma. Yoga has a wealth of information that facilitates the process. Making positive, lasting life-change takes time, courage and patience. It's not easy nor for the faint of heart, but through the practices of yoga it can be done, and we can create our best selves. The Beginning Yoga Studies starts the student on their journey. We discuss and practice the five points of yoga as outlined in the Sivananda tradition. Intermediate Yoga Studies is for the student who has an ongoing asana practice and is ready for more depth of knowledge. Courses include Yamas, Niyamas, Chakras, Meditation & Positive Thinking, Meditation Practice and Creating Equanimity. Each class within the course offering includes asana, pranayama, theory, mantra and meditation. Advanced Yoga Studies steps up the effort and is recommended for students willing to put theory into daily practice. Students interact in self-inquiry to uncover their personal dharma and develop their sankalpa. This course includes daily meditation, a dietary cleanse, homework assignments and culminates in a weekend at the Sivananda Yoga Farm.  
Jill:  Wow!  Thanks so much Ann.  It's clear that you have much to share, in all aspects of yoga, with our community.