This interview is with Sara Maitri, a Sacramento based energy healer. Her contact info is at the bottom and pictures of her healing space throughout… enjoy 🙂
WellBEing Jill: What inspired you become a healer?
Sara Maitri: Several years ago I was encouraged to see an energy healer. I had spent many years in therapy and had cognitively worked through many issues. Yet, I would still find my body reacting to situations that I thought I had already worked through. While receiving energy work, I learned that our cells hold the memories of every event that happens to us and until those memories are released, on the cellular level, we will continue to be affected by our past. As a result of my energy healing, I experienced a profound shift and knew I had to learn these techniques and share them with others.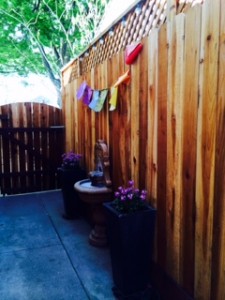 WBJ: How would you describe your healing services?
SM: I use a variety of healing modalities depending on each person's specific situation. I always clear and balance the chakras, which is so important for allowing universal energy to flow freely through the body.  Depending on guidance from spirit, I may use hands-on or sound healing. I am discovering that sound is an AMAZING tool for healing. Not only is it soothing for the client, it also kicks booty on an energetic level to break up blockages. Most of the time my clients leave feeling more grounded and energized and often say they feel much better than when they had gotten a massage.  
WBJ: What do you love most about what you do?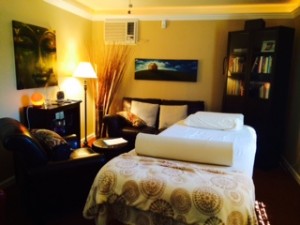 SM: The part I absolutely love about what I do is seeing people become free from blocks that have hindered them for their entire life. I get to see people become empowered and make steps toward having the life they've always wanted… It doesn't get any better than that!  
WBJ: What are some of your other passions in life?
SM: I'm fascinated with science. Stuff that has been considered "out there" or "woo woo," science is now proving as real. It makes my job a lot easier to explain. I also love animals, nature and music. Along with doing energy work I'm also a drummer in a rock band!

WBJ: Awesome! Thanks so much SaraMaitri 🙂


Sara Maitri, CHT ~ Energy Healing     
Sometimes when working on an issue, it might feel like a lot of things can get stuck together. Energy work helps to ground and neutralize events, in order to find clarity, healing, and peace. If you're having a difficult time sifting through an issue, you may benefit from energy healing. Works well in conjunction with therapy, ACA, AA or other 12-step programs.
Call for a 15 minute free consultation + mention WellBEing for $15 off 1st visit.
Location  Sacramento 
Phone  916-833-3885
Email  info@saramaitri.com
Web  Saramaitri.com

Pic of Jill, WellBEing Resource Producer, and Sara Maitri: