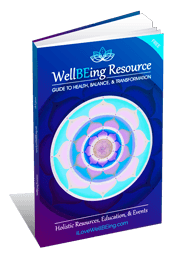 Gain AMAZING EXPOSURE + support WellBEing Resource in a BIG way!
Our sponsorship package offers FANTASTIC EXPOSURE for your business / offering and much appreciation for assisting our mission in gifting this much loved and valued & revered resource to our community!
This sponsorship includes the following:
Full page display ad w/premium placement on the back cover OR a 2 page spread in 20,000+ copies of the WellBEing Resource 8th annual print edition distributed locally and mindfully.
Two directory bios in the categories & subcategories of your choice in 20,000+ print guides (includes headshot or logo, all contact/web info, plus up to 100 word description).
Display ad + directory bios featured in our web directory along with live weblink throughout 2019.
Your business showcased at our festival booths throughout the year! We'll display the marketing/branding item of your choice, such as brochure, cd/dvd, pens, samples, OR other item of your choice (provided by you).
Banner on our website featuring your sponsorship and live linked to your site throughout 2019.
Logo + link to your website in each of our e-letters as our sponsor (sent to thousands of locals!) throughout 2019.
Feature on your business / mission / offerings via a WellBEing blog post + will be shared in an upcoming e-letter and via social media.
Package total $4,500
Let's talk more about it! Call Jill at 916-538-WELL, Schedule a time to talk HERE, or EMAIL.
(Pay Via Credit Card • PayPal • PayPal Credit • Check • Payment Plan)