A wonderful tradition every Mother's Day Weekend is the Whole Earth Festival in Davis. Tons of amazing vendors offering the coolest hand-made creations such as: pottery creations (bowls, cups, vases, and more), hemp clothing, jewelry, soaps and other body care products, as well as natural health and wellness solutions (such as Watsu vendor Laurie Loving) and yummy vegetarian food (garlic fries are always a favorite!), plus so much more. Attendees also enjoy diverse live music, speakers, workshops, dancing hippies, and overall shiny happy people and good vibes.
Oh… did I mention there's no charge for entrance or any of the entertainment? Hoorah 🙂  Do bring some cash for any special treasures you may find and fabulous eats & drinks.
See Jill and Alice featured in the picture below ~ giving out free copies of the 2012 WellBEing Resource and helping out at the Watsu booth: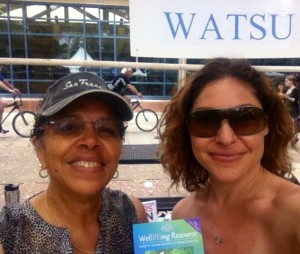 Hope to see you there next year!