Dynamic Journeys ~ VibroAcoustic & Light Therapy
Affordable and self-guided. How can you reduce your stress, inflammation, and pain at low fees? Reduce the toxic load in your mind and body by visiting Dynamic Journeys: Your place for personal exploration and discovery; Established towards reclaiming wholeness of self. By appointment only. 
Mention WellBEing for 20% off 1st visit. 
Location  3112 O St, Ste. 15, Sacramento
Phone  916-838-2570
Email  dynamicsacramento@gmail.com
Web  DynamicJourneys.net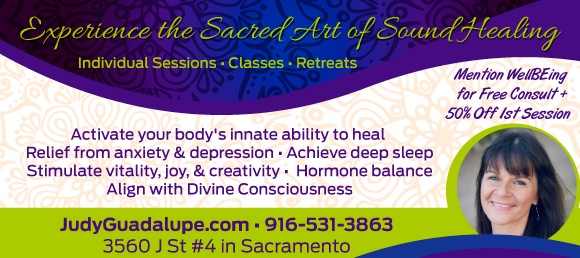 Bowls on Bodies ~ Kerry Cataline
Sound Healing & Yoga
I bring sound healing and yoga (yin, restorative, or nidra) together for a deeper, unique experience. The combination removes energy blockages, so you may relax, reflect, & rejuvenate. Sound Healing uses voice, sound bowls, tuning forks, and instruments to restore balance, inviting deep release of stress and dis-ease.
Mention WellBEing for 20% off 1st individual Sound Healing + 15% off 1st workshop.
Location  Folsom
Phone  916-304-4461
Email  Bowlsonbodies@gmail.com
Web  facebook.com/bowlsonbodies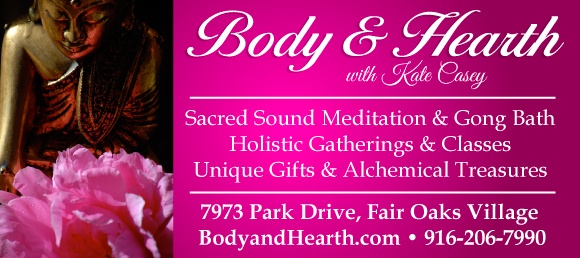 Essentially Cheryl ~ Cheryl Lenz-Berry
Raindrop, Tuning Forks, VitaFlex, Reiki, Aromatherapy
Let's talk. What are your body, mind, and spirit telling you? Experiencing physical discomfort? Emotions ever-changing? Lack of focus or energy? Treat yourself to a relaxing, revitalizing aromatic Raindrop or Vibrational Raindrop: Planetary, Sacred Solfeggio, and Oils of the Bible. Receive personalized bodywork and regenerate cellular balance.
Mention WellBEing for a free 15-minute phone consult + $20 off 1st session.  
Location  Folsom | Shingle Springs
Phone  916-337-3550
Email  raindropcheryl@gmail.com
Web  Essentially-Cheryl.com


Irina Kirilyuk ~ So Subtle Sound and Bioenergy Studio
Certified BioSound, Biofield Tuning Therapist, Mindfulness Coach
I have always been fascinated with the body's incredible ability to heal and repair itself. BioSound and Biofield Tuning is a holistic therapy method that provides targeted nervous system relaxation, which can alleviate a wide range of health concerns.
Mention WellBEing for a complimentary consult & brief Bioenergy session to experience the effects firsthand! 
Location  Carmichael | Remote
Phone  916-936-3787
Email  Irina@SoSubtle.com
Web  SoSubtle.com


Leah Mansee Fitts, #CAMTC 80959  ~ Vibrational Chi
Reiki, Qi Gong, and Vibrational Sound Therapy
Taking time for therapeutic and meaningful self-care is crucial during unsettling times. The gentle and relaxing therapies at Vibrational Chi will unify your body, mind, and spirit, and your own self-healing abilities will be activated, relieving anxiety, depression, and other toxic emotions.
Mention WellBEing for a free 30-minute phone consult. 
Location  10112 Fair Oaks Blvd, Ste. 6 & 7, Fair Oaks
Phone  916-903-3528
Email  VibrationalChi@gmail.com
Web  VibrationalChi.com