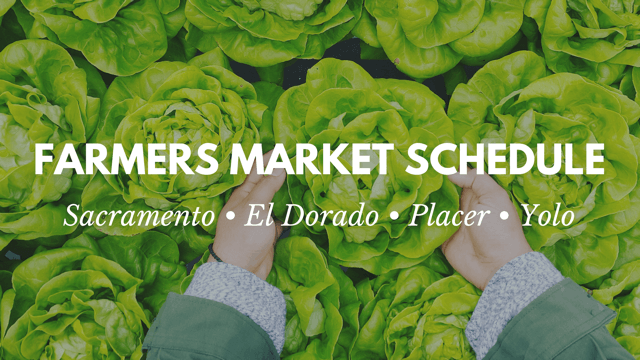 See something we should add/edit? Please email to let us know!
Color Coded: Sacramento • El Dorado • Placer • Yolo

ONE OF OUR FAV LOCAL FARMERS:

The ReFarmery ~ Jon Kupkowski
Semi-Urban Farm, CSA, Farmers Markets
The ReFarmery is a micro farm in the urban fringe of Sacramento. We raise unique veggies, herbs, flowers, eggs, poultry, and breads for CSA members and your local farmers markets. Seasonal DIY workshops and consulting services available as well.
Location  7313 2nd St, Rio Linda
Phone  916-968-0012
Web  therefarmery.com

SATURDAYS
YEAR ROUND:
8 – 1pm  •  311 Vernon St Roseville
8 – 1pm  •  915 Sutter St Folsom
9 – 2pm  •  5750 Grant Ave Carmichael
8 – 1pm  •  2020 J St Sacramento
8 – 1pm  •  6041 Sunrise Blvd Citrus Heights
8 – 12pm  •  Laguna @ Big Horn Blvd Elk Grove
8 – 12pm  •  Watt @ El Camino Sacramento
8 – 12pm  •  Folsom @ Sunrise Blvd Sacramento
8 – 1pm  •  Central Park (4th & C) Davis
8 – 12pm  •  Auburn-Folsom Rd @ Lincoln Way Auburn
SEASONAL:
8 – 12pm • Main St x Cedar Ravine Placerville
8 – 12pm  •  3637 N. Freeway Blvd N. Natomas
8 – 1pm  •  35th St @ McKinley Blvd East Sac
9 – 1pm  •  3500 5th Ave, Oak Park Sacramento
7 – 1pm  •  1409 Del Paso Blvd Sacramento
8 – 12:30pm • Soil Born Farms, 2140 Chase Dr Rancho Cordova
8 – 12:30pm  •  6636 Lonetree Blvd Rocklin
8 – 12pm •  Main & Clay St Placerville

SUNDAYS
YEAR ROUND:
8 – Noon  •  8th @ W St Sacramento
9 – 1pm  •  9615 Railroad Street Elk Grove
SEASONAL:
9 – 1pm  •  1944 Sutterville Rd. Land Park
8:30 – 1pm  •  5550 Douglas Blvd Granite Bay
8 – 1pm • Town Center Blvd El Dorado Hills 
9 – 1pm • 3037 Sacramento St Placerville

TUESDAYS
YEAR ROUND:
8:30 – 1pm  •  1001 Galleria Blvd Roseville
SEASONAL:
10 – 1:30pm  •  Fremont Park (16th & P) Sacramento
10 – 1:30pm  •  Roosevelt Park (9th & P) Sacramento
9 – 1pm  •  200 Waterfront St West Sacramento
9 – 1pm  •  605 Coolidge Drive Folsom

WEDNESDAYS
YEAR ROUND:
9 – 1pm  •  10535 Hospital Way Sacramento
SEASONAL:
8 – Noon • Coach Ln x Strolling Hill Rd Cameron Park
10 – 1:30pm  •  10th & J St Sacramento
3pm – 7  •  8101 Sunset Ave Fair Oaks
4:30pm – 8:30  •  4th @ C St Davis
10 – 1pm  •  Richardson Drive @ B Ave Auburn
8 – 12pm  •  965 Orchard Creek Ln Lincoln
4pm – Dusk  •  401 Main St Placerville 

THURSDAYS
YEAR ROUND:
8 – 12pm  •  5901 Florin Rd Sacramento
SEASONAL:
10 – 1:30pm  •  6th & Capitol Mall Sacramento
3 – 7:30pm  •  UC Davis, 45th @  Y Street Sacramento
4 – 7:30pm  •  2825 Capitol Ave Sacramento
4:30 – Dusk  •  1110 West Capitol Ave. West Sac
8 – Noon  •  2501 New Market Dr N. Natomas
8 – Noon  •  3636 Taylor Rd, Loomis 

FRIDAYS
SEASONAL:
9 – 1pm • Marshall Medical Center Placerville
10 – 2pm  •  Power Inn @ Folsom Blvd Sacramento
9:30 – 1:30 pm  •  2025 Monrose Ave Sacramento