Amber Vodden, DC
Picture of Health Chiropractic & Nutrition

Dr. Amber Vodden specializes in gentle low force chiropractic adjusting, combining Bio-Geometric Integration (BGI), activator and diversified techniques. She adjusts infants to elderly concentrating on creating balance and increased flexibility in the body. She works with pregnant woman and is certified in Webster Breech Technique. Dr. Amber concentrates on whole body rebalancing and will release nerve tension in the spine as well as the extremities. In addition to chiropractic services the office offers nutrition services and detoxification foot baths.
Mention WellBEing for 30% off initial visit!  
Location  700 Sunrise Ave, Ste O, Roseville
Phone  916-788-2780
Web  PictureofHealthChiro.com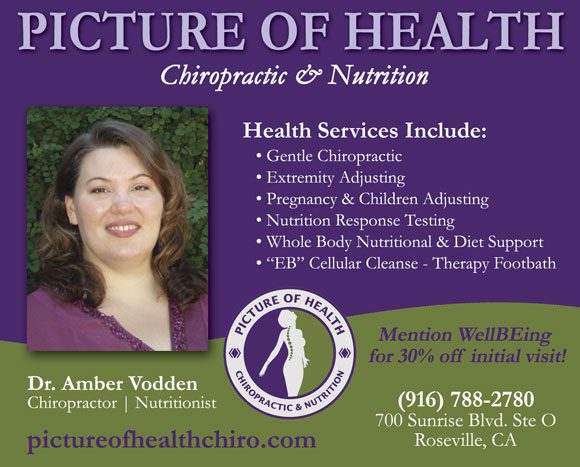 Bill Bollinger, DC ~ AXIS Chiropractic
We specialize in Neuro-Structural Chiropractic, an approach targeting shifts and structural abnormalities of the spine. Our consultation is a conversation, where we speak for a bit to see if we're a good fit. After all, we're not a "one size fits all" practice, so doesn't it make sense to discover that before you begin a relationship with us? 
Mention WellBEing for a $50 gift certificate off a Neuro-Structural consultation.
Location  151 North Sunrise Ave #1014, Roseville
Phone  916-772-7722
Email  info@axisroseville.com
Web  axisroseville.com


Garrik Danilov, DC ~ Chiropractic Kinesiologist

Do you suffer from some of these conditions: Car accident injuries; pain in the neck, shoulders, or lower back; allergies; learning deficiencies; headaches; TMJ; or asthma? If so, consider Neural Organization Technique (N.O.T.), a non-invasive and safe approach. N.O.T. is a treatment protocol utilizing applied kinesiology, chiropractic manipulation, and sacro-occipital and cranial techniques. Every step is demonstrable, repeatable, predictable, and therefore, neurologically correct. N.O.T. is designed to correct conditions, not manage them. When systems are corrected and neurologic integrity is established in the body, the patient can run his body much more efficiently. Dr. Danilov has successfully treated patients of all ages for over 25 years.  
Mention WellBEing for a FREE initial consult & evaluation.
Location  8300 Fair Oaks Blvd. #201 Carmichael | 1260 Lake Blvd #222, Davis 
Phone  916-812-0205
Email  garrik44@gmail.com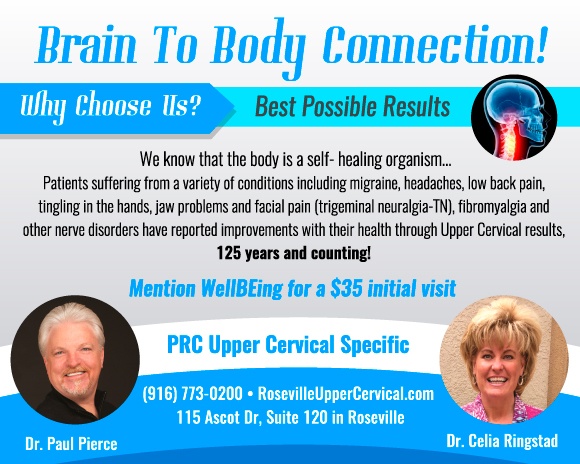 Dr. Ranvir Sahota ~ Synapse Chiropractic 
At Synapse, we focus on neurologically based chiropractic care. It is a branch of chiropractic that focuses on the proper function of the Central Nervous System and its direct connection to all the cells in your body. Not just helping symptoms, but enhance healing throughout your life, by correcting the root cause.
Mention WellBEing for 10% off 1st visit (initial consult, exam, adjustment). 
Location  6508 Lonetree Blvd #101, Rocklin
Phone  916-625-6395
Email  team@synapsechiropractic.com
Web  SynapseChiropractic.com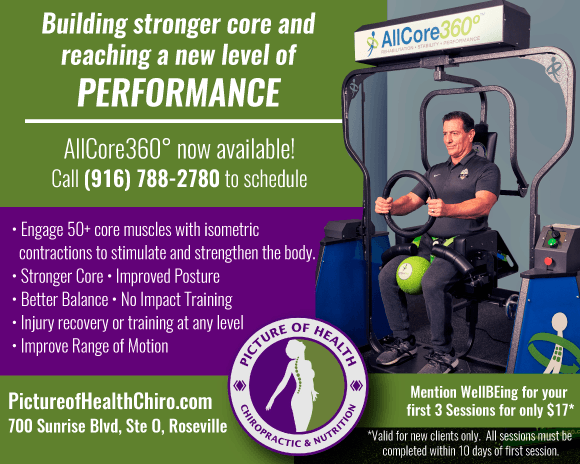 Sherie Viencek, Doctor of Chiropractic
CBNS, Functional Nutrition Specialist
For 28 years, Dr. Sherie Viencek has been treating children, teens, and adults with gentle care, combining manual manipulation, activator, cranial sacral, and rehabilitative exercises. Focus is on whole body integration and balance. See other bio under Functional & Integrative Medicine.
Mention WellBEing for $30 off 1st visit.
Location  Fair Oaks
Phone  916-225-7653
Email  Drvvitalhealth@gmail.com
Web  DrVofVitalHealth.com