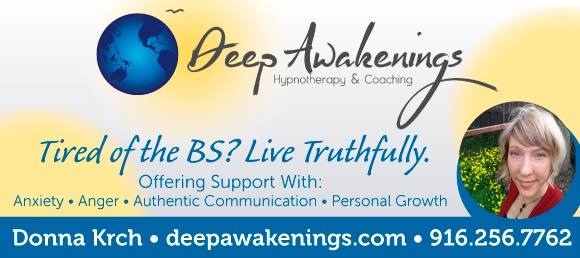 Anna Kato, Ed.D. Certified Clinical Hypnotherapist
Wise Raven Hypnotherapy

Hypnotherapy is a joint endeavor between client and therapist resulting in heightened focus, clarity, insight, and accelerated change. In addition to working with me to accomplish your specific goals, I will teach you self-hypnosis as a means to nurture body, mind, and spirit with profound, enduring results. 
Mention WellBEing for 50% off 1st session.  
Location  Midtown Sacramento
Phone  916-484-3797
Email  anna@wiseravenhypnotherapy.com
Web  wiseravenhypnotherapy.com


Carrie J Meyer, MA, CCHT, ERYT
Holistic Hypnotherapy
When previous efforts toward healing and growth have proven insufficient, a holistic approach with a seasoned practitioner can make all the difference in evoking genuine transformation. A clinical hypnotherapist with a master's degree in psychology, keen instincts for healing work, and a caring, perceptive manner, Carrie employs a multidimensional process that awakens the healing intelligence in her clients and guides them toward liberating change. Please see her website for details/testimonials on her offerings.
Mention WellBEing for a free 15-minute phone consult + $15 off 1st session.
Location  Sacramento | Skype
Phone  916-705-0511
Email  info@carriejmeyer.com
Web  carriejmeyer.com


Cindy Betts, M.A., Hypnotherapist, Medium, Energy Reader

My goal is to help clients help themselves with guidance from Spirit through past life regressions, mediumship, & energy readings. Each session is individualized. At the conclusion of each hypnosis session, clients may choose a guided visit with departed loved ones and/or spirit guides.
Mention WellBEing for a free crystal at 1st appointment. 
Location  Rocklin | Virtual
Phone  916-834-2631
Web  CindyBetts.com


DeAnna Torres, CCHT ~ Transformational Hypnotherapy
Spiritual Regressions, Hypnotherapy, Shamanic Healing, E.F.T.

DeAnna specializes in helping you regain your passion for life, experience inner growth and healing, and navigate life's transitions without fear. Trained in spiritual regression by the Newton Institute, she offers Past Life Regressions and Life-Between-Lives™ sessions. She is also a shamanic practitioner and an ordained Minister with the Circle of the Sacred Earth.
Mention WellBEing for a free 15 minute phone consult + $20 off 1st session.  
Location  Fair Oaks
Phone  916-710-1313
Email  deanna@hope4youtoo.com
Web  Hope4youtoo.com 


Denver Vo, CHt, Hypnotherapist/Mesmerist
Mind Body Hypnotherapy
Discover a lost ancient healing method to expand your consciousness and watch anxieties, fears, and depression wash away. Magnetic Hypnotherapy effectively heals both your subconscious mind and energy at a deeper level. Reclaim your freedom and peace of mind.
Mention WellBEing for your free 30-minute consult.
Location  210 Estates Dr, Roseville
Phone  916-720-9502
Web  MindBodyHypnotherapy.com