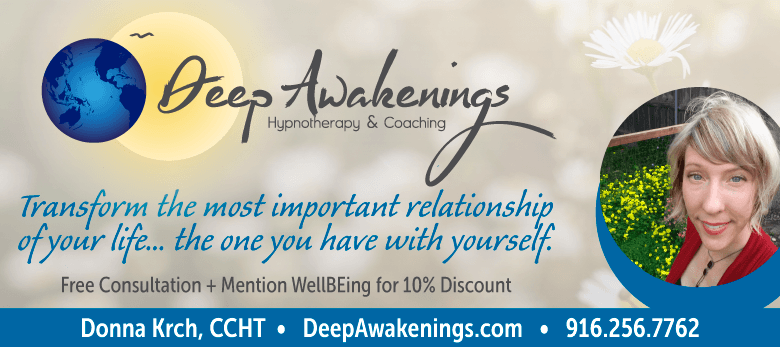 Wise Raven Hypnotherapy
Anna Kato, Ed.D. Certified Clinical Hypnotherapist

Hypnotherapy is a joint endeavor between client and therapist resulting in heightened focus, clarity, insight, and accelerated change. In addition to achieving a particular goal through the process of hypnotherapy, some clients decide to learn self-hypnosis to support body, mind, and spirit – a lifelong skill that can produce profound results. Some clients choose to explore or expand their sense of spirituality or creativity through hypnotherapy. Should you want to make changes in your life, gain a new perspective, enhance your creativity, or deepen your relationship with your spiritual self, I look forward to working with you.
Mention WellBEing for 50% off 1st session.  
Location  Midtown Sacramento
Phone  916-484-3797 (call/text)
Email  [email protected]
Web  wiseravenhypnotherapy.com

Cindy Betts, M.A., Hypnotherapist, Medium, Energy Reader

My goal is to help clients help themselves with guidance from Spirit through past life regressions, mediumship, & energy readings. Each session is individualized. At the conclusion of each hypnosis session, clients may choose a guided visit with departed loved ones and/or spirit guides.
Mention WellBEing for a free crystal at 1st appointment. 
Location  Rocklin | Virtual
Phone  916-834-2631
Web  CindyBetts.com


DeAnna Torres ~ Soul-Healing Hypnotherapy
As a shamanic practitioner and certified Clinical Hypnotherapist, I specialize in helping you regain your passion for life, experience inner growth, and heal past traumas. All my sessions – Shamanic Healing Soul Retrieval, Past Life Regression, Life Between Lives sessions, and transpersonal hypnotherapy – center around bridging you towards wholeness on a mental, emotional, and spiritual level. 
Mention WellBEing for a free 15-minute phone consultation.  
Location  Fair Oaks | Virtual
Phone  916-710-1313  
Web  hope4youtoo.com


Brian Stuepfert, RN, MSN, CCHT, CMT
Owner, BodyLight LLC   
I combine clinical hypnotherapy and massage therapy to help you reduce physical and emotional stress, tension, anxiety, and pain. Individualized sessions at BodyLight can help you feel more relaxed and whole, allowing you to make the positive changes you want in your Self and in your life. Contact me to schedule a free in-person consultation. I look forward to working with you!
Location  Elk Grove
Phone  916-562-0231
Web  BodyLight.org


Elizabeth Spera CHt, QHHT Practitioner, Past life Regression
Quantum Healing Hypnosis Technique (QHHT) accesses the Higher Self which gets information from the collective consciousness to help you with issues in this life. Questions can cover health, finances, career, relationships, emotions, phobias, and/or any other concerns. 
Location  461 Grass Valley Hwy #16, Auburn
Phone  916-799-2741
Email  [email protected]


HypnoBreakthrough ~ Pamela Topjian CHt
Board Certified Hypnotherapist 
I specialize in assisting women on their healing journey, through life's uncertainties that may have you feeling stuck or lost after divorce, widowhood, empty nest, etc. Reconnect within yourself, gently, mindfully, and holistically, with Hypnotherapy and spiritual guidance.
Free consultation with complimentary sample session included! 
Location Virtual (Phone/Zoom)
Phone 916-400-0889
Web HypnoBreakthrough.com


Wildflowers Hypnotherapy
Sandra Zambo, Certified Clinical Hypnotherapist
I help people through hypnotherapy to connect with their own Inner Wisdom to overcome problems in their life. Hypnotherapy creates a straight pathway to the subconscious mind to remove unwanted thoughts, feelings, and emotions, while also incorporating peace of mind and balance.
Mention WellBEing for 10% off your hypnotherapy program!
Location  Sacramento | Virtual 
Phone  916-539-0572
Web  WildflowersHypnotherapy.com 


TimeBridge Hypnotherapy by Susan Langley
Hypnotherapist and Hypnotic Coach, CCHT
Reiki lays the groundwork. Hypnotherapy removes the blocks and obstacles of self-sabotage. HypnoCoaching undertakes important life decisions and changes. Meditation, Sound healing, Acupressure and Oils complete the Healing. Let your Inner Teacher heal your Past to build the Future you need.
Mention WellBEing for 50% off your intake. 
Location 8421 Auburn Blvd # 120, Citrus Heights
Phone  530-701-5118
Web  TimeBridgeHypnotherapy.com