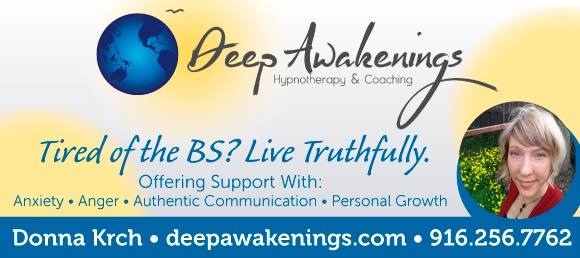 Anna Kato, Ed.D. Certified Clinical Hypnotherapist
Wise Raven Hypnotherapy

Hypnotherapy is a joint endeavor between client and therapist resulting in heightened focus, clarity, insight, and accelerated change. In addition to working with me to accomplish your specific goals, I will teach you self-hypnosis as a means to nurture body, mind, and spirit with profound, enduring results. 
Mention WellBEing for 50% off 1st session.  
Location  Midtown Sacramento
Phone  916-484-3797
Email  anna@wiseravenhypnotherapy.com
Web  wiseravenhypnotherapy.com


Carrie J Meyer, MA, CCHT, ERYT
Holistic Hypnotherapy
When previous efforts toward healing and growth have proven insufficient, a holistic approach with a seasoned practitioner can make all the difference in evoking genuine transformation. A clinical hypnotherapist with a master's degree in psychology, keen instincts for healing work, and a caring, perceptive manner, Carrie employs a multidimensional process that awakens the healing intelligence in her clients and guides them toward liberating change. Please see her website for details/testimonials on her offerings.
Mention WellBEing for a free 15-minute phone consult + $15 off 1st session.
Location  Sacramento | Skype
Phone  916-705-0511
Email  info@carriejmeyer.com
Web  carriejmeyer.com


Cindy Betts, M.A., Hypnotherapist, Medium, Energy Reader

My goal is to help clients help themselves with guidance from Spirit through past life regressions, mediumship, & energy readings. Each session is individualized. At the conclusion of each hypnosis session, clients may choose a guided visit with departed loved ones and/or spirit guides.
Mention WellBEing for a free crystal at 1st appointment. 
Location  Rocklin | Virtual
Phone  916-834-2631
Web  CindyBetts.com


DeAnna Torres, CCHT ~ Soul-Healing Hypnotherapy
Spiritual Regressions, Hypnotherapy, Shamanic Healing, E.F.T.

DeAnna is a shamanic practitioner and certified Clinical Hypnotherapist, specializing in helping you regain your passion for life, experience inner growth, and heal past traumas. All her sessions – Shamanic Healing/Soul Retrieval, Past Life Regression, Life-Between-Lives sessions, and transpersonal hypnotherapy – center around bridging you towards wholeness on a mental, emotional, and spiritual level.
Mention WellBEing for a free 15 minute phone consultation.  
Location:  Fair Oaks and virtually
Phone:  916-710-1313
Email:  deanna@hope4youtoo.com
Web:  hope4youtoo.com


Denver Vo, CHt, Hypnotherapist/Mesmerist
Mind Body Hypnotherapy
Discover a lost ancient healing method to expand your consciousness and watch anxieties, fears, and depression wash away. Magnetic Hypnotherapy effectively heals both your subconscious mind and energy at a deeper level. Reclaim your freedom and peace of mind.
Mention WellBEing for your free 30-minute consult.
Location  210 Estates Dr, Roseville
Phone  916-720-9502
Web  MindBodyHypnotherapy.com