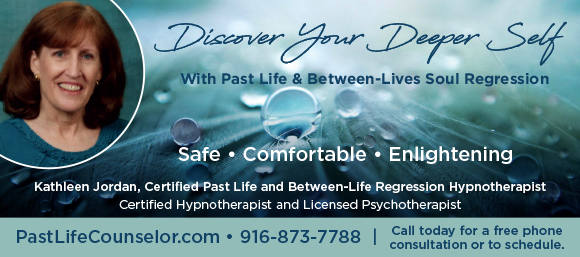 Anna Kato, Ed.D. Certified Hypnotherapist
Wise Raven Hypnotherapy
530-220-9203 • Midtown Sacramento

Hypnotherapy is a joint endeavor between client and therapist resulting in heightened focus, clarity, insight, and accelerated change. In addition to working with me to accomplish your specific goals, I will teach you self-hypnosis as a means to nurture body, mind, and spirit with profound, enduring results. Mention WellBEing and receive the first session for half price. anna@wiseravenhypnotherapy.com •  wiseravenhypnotherapy.com  



Amunet J. Burgueno, Master Hypnotist & HypnoCoach®

916-500-2295 • Virtual
Are you less than happy? Struggling with anxious thoughts, worry or sadness? Discover how to laugh and smile again! Go to my site to book a free "Happy, Confident, and Relaxed" strategy session, to make every day better than the last.  
Mention WellBEing for a free Deep Relaxation Hypnosis Recording. 
RelaxedMindandBody.com  •  relaxedmindandbody@gmail.com

Anyes Cartry, CCHT, Alchemical Hypnotherapist
Hypnotherapy Training Certification
530-277-9513  • Roseville, Nevada City, & Virtual  
I am dedicated to empowering clients of all ages to achieve their full potential at the physical, psychological, and spiritual levels. "We all have in us all we need to live a balanced, fulfilling and natural life."  I have been practicing and teaching Alchemical hypnotherapy for over 11 years and am also a Reiki Master, teacher, and voice opener.  M
ention WellBEing for a free 15 min. phone consult • 15% off 1st 2 hr session.
Agnes@2healyourself.com • 2healyourself.com


Carol Burdon, CCHT, Positively Hypnosis
530-903-0752 • Cameron Park & Virtual
Let healing hypnotherapy help you conquer bad habits, change limiting behaviors and beliefs, heal emotional trauma, and accomplish your goals.  Carol will assist you in reconnecting with your inner self, enabling you to bring about extraordinary change to live a healthy, balanced life. Mention WellBEing for a Free 30 minute consultation.  info@PositivelyHypnosis.com • PositivelyHypnosis.com


Carrie J Meyer, MA, CCHT, ERYT
Holistic Hypnotherapy
916-705-0511 • Sacramento
When previous efforts toward healing and growth have proven insufficient, a holistic approach with a seasoned practitioner can make all the difference in evoking genuine transformation. A clinical hypnotherapist with a master's degree in psychology, keen instincts for healing work, and a caring, perceptive manner, Carrie employs a multidimensional process that awakens the healing intelligence in her clients and guides them toward liberating change. Please see her website for details/testimonials on her services, events, and workshops. Mention WellBEing for a free 15-minute telephone consultation and $15 off 1st session. info@carriejmeyer.com • carriejmeyer.com


DeAnna Torres, CCHT ~ Transformational Hypnotherapy
Spiritual Regressions, Hypnotherapy, Shamanic Healing, E.F.T.
916-710-1313 • Fair Oaks
DeAnna specializes in helping you regain your passion for life, experience inner growth and healing, and navigate life's transitions without fear. Trained in spiritual regression by the Newton Institute, she offers Past Life Regressions and Life-Between-Lives™ sessions. She is also a shamanic practitioner and an ordained Minister with the Circle of the Sacred Earth. Mention WellBEing for a free 15 minute phone consultation + $20 off first session.  Hope4youtoo.com  •  deanna@hope4youtoo.com


Rev. Joy Reichard, M.A., C.C.H.T ~ Healing with Joy
Clinical Hypnotherapist, Life Coach, Spiritual Counselor
415-819-8769 • Fair Oaks & Virtual 
With 14 years of experience I compassionately help you overcome repeated negative patterns in relationships, health, finances, and/or career. Through life coaching, hypnotherapy, and spiritual guidance I guide you towards owning your true value, embracing your potential, and living a more joyful life. 9712 Fair Oaks Blvd Ste A-6. Mention WellBEing for a 30 minute complimentary consultation. Reichard.joy@gmail.com • joyreichard.com

Helene VanSant-Klein BCPC, RN, MHt, LMFT, LPCC
Certified Master Hypnotherapist, Certified in EMDR
916-342-0380 • Fair Oaks
Helene utilizes traditional hypnotherapy as well as a transpersonal approach with Past Life Regression and Life Between Life Regression to facilitate growth, healing and transformation.  She studied with Dr Brian Weiss, ASCH, The Milton Erickson Foundation, NATH, The Newton Institute, and is an EMDRIA Approved Consultant. 4088 Bridge St #5. HeleneVanSantKlein.com


Kathleen Jordan, LMFT, Psychotherapist, Lic. #MFC25600
Certified Hypnotherapist & Regression Hypnotherapist
916-873-7788 • North Natomas
Curious about your past lives? With Past Life and Between-Lives Soul Regression Hypnotherapy, you can break through old patterns that hold you back, reduce anxieties or depression linked to a past life, and understand your personal relationships in a new light.  You can gain a sense of renewed energy,  joy and purpose for your life.  Mention WellBEing for a free phone consult + $20 off your first session.  kathleen@kathleenjordan.com • pastlifecounselor.com  • KathleenJordan.com