Integrative & Holistic Healing
Breast & Body Thermography

Sierra Thermography
Emily Frazer, Board Certified Thermography Technician
Emily is committed to providing women with a safe and valuable tool for monitoring breast health. With no radiation or compression of delicate breast tissue, a thermogram can be used as a risk assessment for women of any age.
Mention WellBEing for $20 off your first visit. 
Location  Citrus Heights | Napa
Phone  916-878-1181
Web  SierraThermography.com


Essential Thermography
Tina Chico, Board Certified Thermography Technician

In the wellness industry for over 22 years, Tina believes in being proactive and encouraging clients to make health changes long before symptoms/signs of disease occur. She is dedicated to educating women & men of all ages about the benefits of Thermography, relating to early disease and cancer detection.
Mention WellBEing for $50 off any scan.

Location  Sacramento | Placerville | Santa Cruz
Phone  916-304-5557
Web  EssentialThermography.com
Doula & Postpartum Consultant

Dessirá Schroeder, Doula Concierge
With over 10 years experience, Dessirá specializes in family preparation, birth, and postpartum support. She is gentle, intuitive, and will always support you, wherever you are on your journey. Dessirá's services include birth preparation packages, day/overnight postpartum in-person support, and virtual coaching groups.
Mention WellBEing for 20% off your first package. 
Location  Sacramento & Surrounding
Web  Transcendwithbirth.com
Email  [email protected]
Fitness Classes

her Elevated | Katie Blomberg 
Fitness Studio & Space for Wellness Events
Katie is the owner of her Elevated, a wellness studio for women to elevate collectively, through movement, community, and wellness. Katie leads a variety of small fitness classes for women each week and rents the studio to independent instructors, who provide a variety of classes. Whether you're hosting a movement class, women's circle, workshops, or baby shower – we're the beautiful studio for you. Check out our website for all of our offerings! 
Location  1900 28th St (corner of S), Sacramento
Phone  916-761-9295
Web  herElevated.co | instagram.com/her_elevated

Integrative & Holistic Healing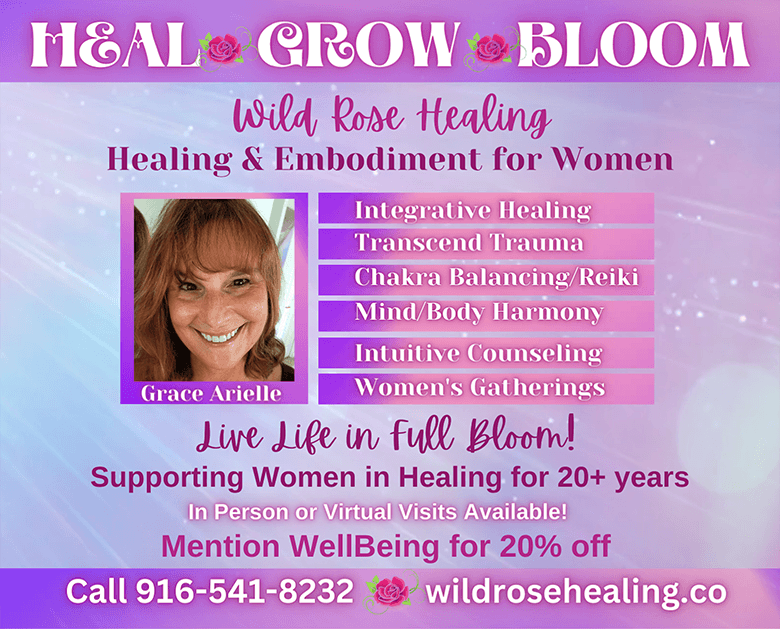 Khela Herbs | Kellan MacKay, Owner  
Khela Herbs is the plant-based healthline for busy women. We offer herbal health consultations, focusing on getting to the root cause of disharmony, in order to rebuild and rebalance the body through foods, oils, herbal teas, and lifestyle recommendations. Schedule a free 15-minute health check at:  calendly.com/kellan-mackay/herbalhealthcheck
Location  Rancho Cordova | Virtual
Phone  916-241-3596
Email  [email protected]
Web  KhelaHerbs.com


Winds of Change by Riva Jean-Paul
We collaborate with busy, stressed, and anxious women who are wanting to bring balance into their lives through spiritual connection. Through individual sessions and retreats, Riva provides curated experiences to bring rejuvenation, inspiration, and positive changes into her clients' lives.
Mention WellBEing and your 1st  group session is free!
Location  717 K St #509, Sacramento (by appt only)
Phone 530-746-8216
Web itsarivalution.com
• View Riva's WellBEing blog post on How to Start Over

Stacey Goetz, RN, CFZ, MCT-P
Mind, Body, and Sole Wellness Center
Are you suffering with unexplained symptoms left untreated by western medicine? Stacey Goetz, RN offers natural solutions to reduce acute/chronic pain and inflammation, elevate energy/mood, decrease stress/anxiety, and more. She creates an individualized plan to revive your wellness. Services include Foot Zoning/Instruction, Microcurrent Therapy, Bioresonance Body Scanning (remote), Facial Cell Salt Analysis (remote), Workshops/Classes, and more.
Mention WellBEing for a Complimentary Bioresonance Mini Body Scan. 
Location  Citrus Heights | Virtual
Phone  530-282-8128
Web  mindbodysolewellness.com


Amanda Harris, Essential Oil Specialist
I believe that optimal health is not addressed in a one size fits all approach. I enjoy curating personalized wellness plans for my clients, offering solutions through the use of essential oils, whole food based supplements, and wellness scans.  
Mention WellBEing for a free immunity blend! 
Location  Virtual
Phone  530-917-8969 
Web  HealingWithHarris.com  |  Instagram.com/healingwithharris
Prenatal & Postpartum Massage
Kristen believes that massage helps heal and rejuvenate the body, mind, and soul. She specializes in Prenatal/Postpartum, Hot Stone, Aromatherapy, and is a Certified Infant Massage Instructor and Essential Oil Educator. Practicing since 2003, she's gifted in many modalities and personalizes each treatment for a unique and individual healing session.
Location  3128 O St #6, East Sacramento
Phone  916-768-0344
Email  [email protected]
Web  onewithinwellness.com