Alternative Medicine, Cannabis, & CBD
Functional & Integrative Medicine 
Also, see Acupuncture/Herbal Support
Alternative Medicine, Cannabis, & CBD

A Therapeutic Alternative 
Kimberly Cargile, Director
A Therapeutic Alternative is a Social Purpose Corporation with an intention to provide a professional and holistic environment for cannabis consumers to obtain products and education from our compassionate and knowledgeable staff. We believe in the healing powers of cannabis and advocate for the continued growth of the legal industry in the greater Sacramento region, at the state capital and on the federal level.
Location  3015 H St, Midtown Sacramento
Phone  916-822-4717
Web  ATherapeuticAlternative.com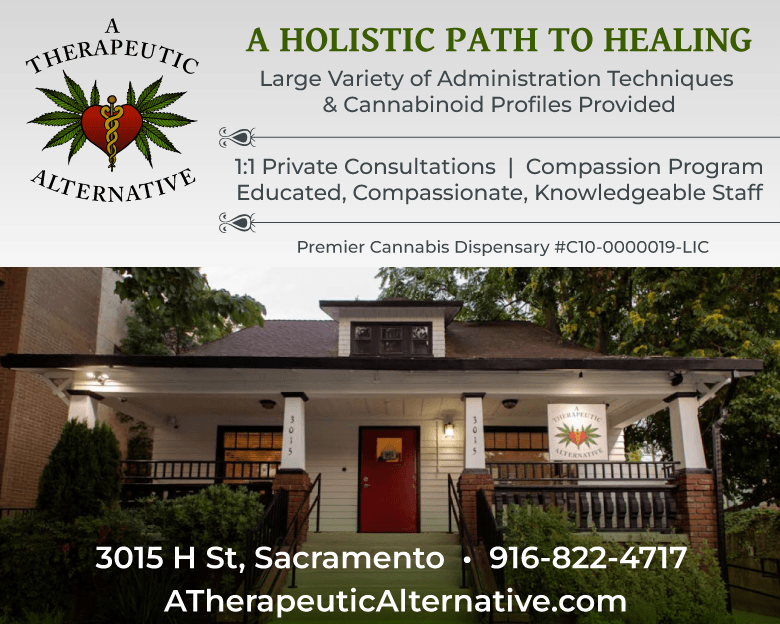 Aromatherapy / Essential Oils

Balance Within ~ Monica L. Biery, Aromatherapist  
I create essential oil blends and healing balms for relief from stress, insomnia, digestive issues, hormonal imbalances, headaches, side effects from pharmaceuticals and cancer treatments, and many other ailments/concerns. Mother Earth, her medicines, and our bodies have an intelligence and know how to heal.
Mention WellBEing for a free 15 minute phone consult. 
Location  Sacramento | Virtual 
Phone  916-206-7665  Web  balancewithin.us
Email  monica@balancewithin.us

Tina Marie Chico ~ dōTERRA Aromatouch Certified

Holistic Health Coach & Enthusiast, Wellness Advocate
As a mother of 6 and 20 years of experience using plants as medicine, Tina understands the importance of natural solutions for health and wellness in the home. She found dōTERRA and immediately recognized the powerful, therapeutic values of essential oils! She is passionate about sharing this wisdom and empowering individuals with a mindset and skillset to create healthy, vibrant, purpose-filled lives.
Mention WellBEing for a free 30-minute phone health consult. 
Location  Virtual
Phone  916-904-6654  Web  mysacredoils.com
Email  doterratina@gmail.com
Ayurveda & Pancha Karma

Blue Sage Ayurveda
Ragaia Belovarac, MA, BA, CMT, CAS, PKS
Ragaia Belovarac and the Practitioners of Blue Sage Ayurveda offer traditional Ayurvedic therapies at their beautiful Ayurvedic Sanctuary located in the scenic Sierra Nevada foothills in California. Ayurvedic therapies facilitate healing by utilizing the ancient wisdom of this natural medicine. The practice of traditional Pancha Karma facilitates each client's healing journey by utilizing therapies that cleanse and strengthen the body in a way that allows each individual to experience optimum health and peace of mind. Ayurveda approaches the entire body in a holistic way. By examining each client's unique constitution, imbalances can be addressed through the correct application of diet, lifestyle, exercise and specific body therapies which may include Pancha Karma. When diagnosed by a properly trained Ayurvedic Specialist significant results can be obtained. Ragaia is the Director of Blue Sage Ayurveda Sanctuary and Director of Body Therapies at the California College of Ayurveda.
Location  Nevada City, CA
Phone  888-878-5222
Email  bluesage.ayurveda@gmail.com
Web  Bluesage-Ayurveda.com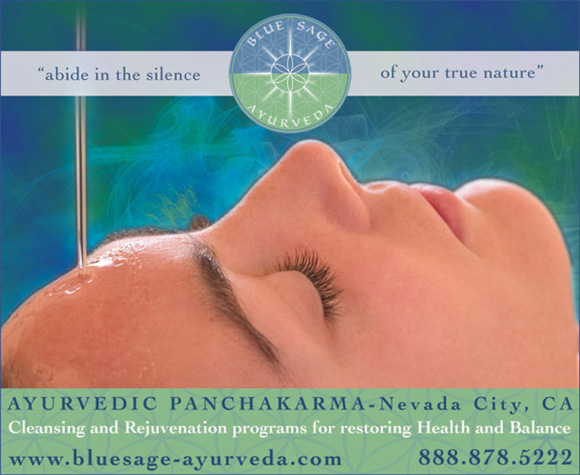 Cancer Support

Wellness Within Cancer Support Services
We provide a wide range of services that enhance an individual's ability to experience quality of life through practices that incorporate physical, emotional, and mental wellbeing. Our programming includes classes in Expressive Arts, Healing Movement, Meditation & Mindfulness, Nutrition & Cooking, Guest Speakers, and more at no charge. We also offer a new online series of classes on YouTube and a Podcast for more resources, education, and conversations around holistic health. 
Location  609 Oak St, Roseville | Virtual
Phone  916-788-0333
Web  wellnesswithin.org
Colon Hydrotherapy
Wellness of Life Clinic | Angela Harris, Founder

Angela is a nationally board certified colon hydrotherapist instructor level and specializes in the digestive system. She has been serving clients on their holistic health & wellness journey for 30 years, implementing a systematic strategy of supplements, technique of herbal tinctures, and holistic wellness coaching to create an individualized "Holistic Wellness Strategy" into each client's visit to transform her clients' current "Health Care" into "Self Care." She is also the author of  Wellness of Life: Whole Body Wellness with Ease!
Location  5120 J. St #G, East Sacramento
Phone  916-905-7743 | 916-761-7316 (call/text)
Web  wellnessoflifeproducts.com
Compounding Pharmacy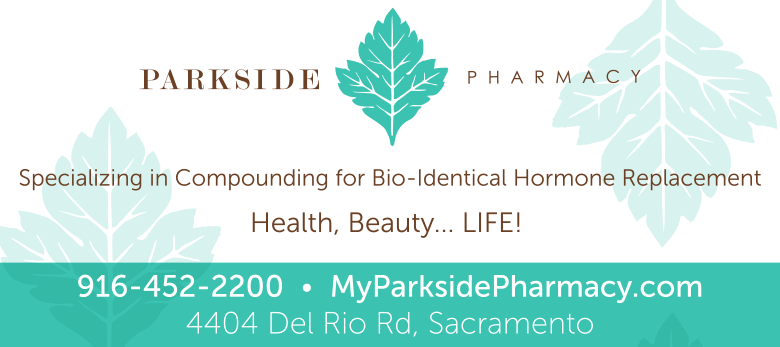 Functional & Integrative Medicine

Pamela Connor, Conner Wellness Clinic
Functional Medicine Nutritionist, Life Coach, Speaker
Pamela takes a functional medicine and integrative approach to healing and the factors influencing health. She offers a science based and nutritional approach getting to the root cause of your health imbalances, a wide variety of diagnostic and lab testing are available for conditions, such as autoimmune disorders, gut issues, hormone balance, genetic testing. For all services provided, see our website.  
Location  Roseville | Telehealth
Phone  916-404-0886
Web  ConnorWellnessClinic.com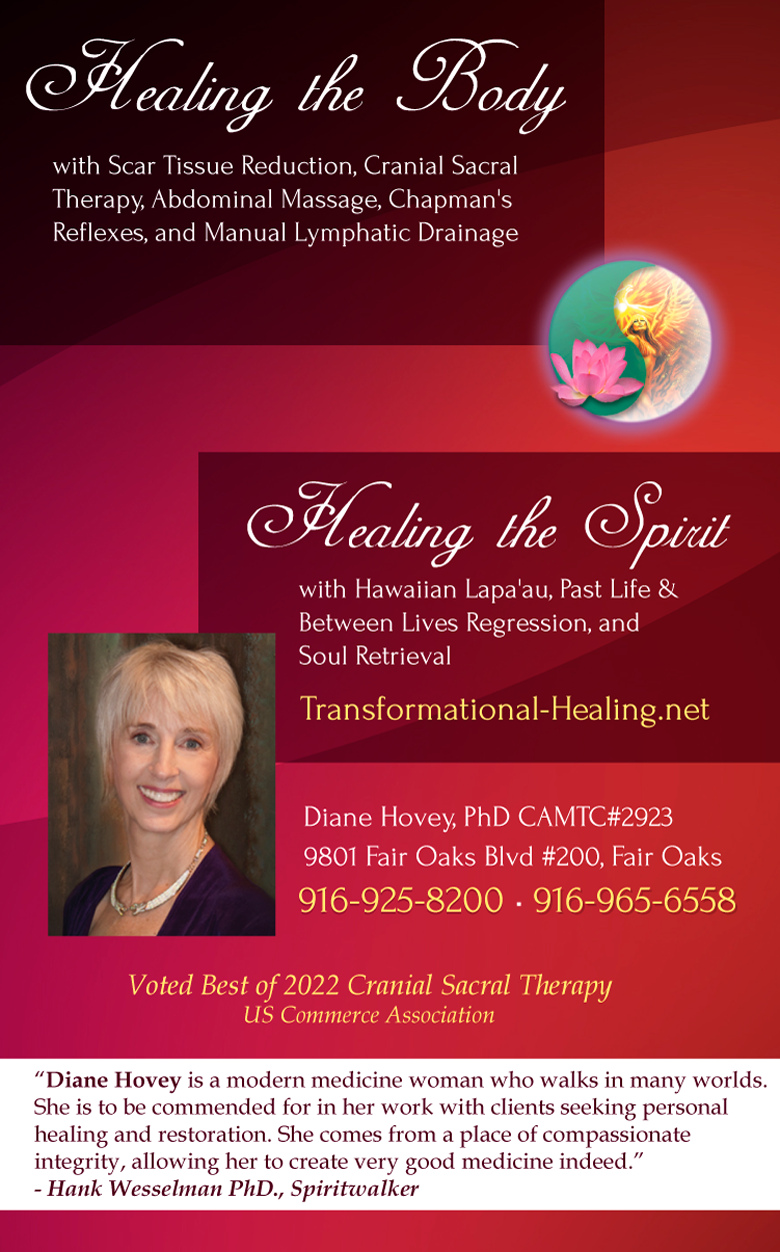 Natural Medicine
NaturoHealth | Dr. Randell Petersen
Traditional Naturopath/Doctor of Natural Medicine
Dr. Petersen (AKA Dr. Pete) is a Traditional Naturopath offering affordable, natural healthcare that focuses on non-invasive support for both chronic and acute conditions utilizing vitamins, supplements, and herbal medicine. He has a Bachelor's degree in Natural Health, a Doctorate in Traditional Naturopathy, and is Board Certified by the American Council of Holistic Medicine. Meet with Dr. Pete from the safety and comfort of your own home via telephone or video appointments. Call today for a free 15 minute introductory call.
Location  Roseville | Virtual
Phone  916-773-1653
Web  NaturoHealth.org
Naturopathic Doctor

Dr. Dennis Godby, ND, MA
Sacramento Naturopathic Medical Center
Dr. Godby and doctors at SNMC will seek the root cause of your medical conditions, treat with lifestyle and natural medicine, and help you to thrive. Dr. Godby is Sacramento's longest serving Naturopathic Doctor (18 years) and the recipient of California's first "Doctor of the Year" in 2012. Common SNMC treatments include: bio-identical hormones, nutrient IVs, B12 & other injections, hyperbaric oxygen, botanicals, ozone, natural aesthetics, nutrition, stress reduction and many others. Call to schedule a free 15-min. phone call, 20% off initial consult & supplements (new patients).
Location Midtown Sacramento
Phone  916-446-2591
Email  DrGodby@SacND.com
Web  SacND.com  |  BioIdenticalDoctorSacramento.com
Wellness Centers

ESAC Achievement & Wellness Center
Collective Compassionate Care    
We're proudly observing 20 years of offering collective compassionate care via our community of exemplary holistic practitioners, educators, and mentors. We offer one-on-one services, classes, and more to help you reach your achievement and wellness goals! View our site or call to learn more about our offerings and/or to collaborate with us. 
Location  225 30th St #311, East Sacramento
Phone  916-544-0217   Web  ESACwellness.com


Synergistic Holistic & Integrative Network of Entrepreneurs (SHINE)
SHINE is a non-profit community of holistic practitioners offering an online directory, help with your business and connection and support with upbeat mixers and events to promote your business and support other professionals. Join SHINE today! Mention WellBEing for 10% off initial membership + find your favorite holistic practitioner at: shinedirectory.org
Location  Sacramento   
Phone  916-202-3262