Also view Prenatal/Postpartum Massage 
Bodywork/Therapeutic Massage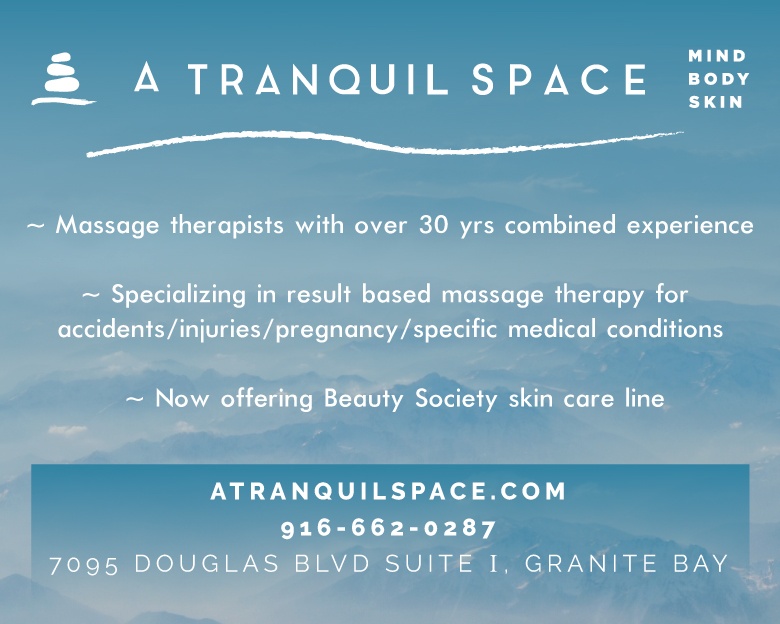 (Also, see directory bio in Skin Services)

Cindy McGonigle, Intuitive Touch for True Healing


CranialSacral, Lymphatic Drainage, Brainwork
In practice for 30 years, Cindy has the gift of sensing where the body is in need of healing. She specifically tailors sessions to each individual, as she instructs and guides clients in their healing process. She has treated those with MS, Lymes Disease, migraines, post surgical complications, sports injuries, Fibromyalgia, Lymphedema, chronic pain, and more. 
Mention WellBEing for $10 off 1st session. 
Location     Sacramento/Elk Grove
Phone          916-203-4626
Email           [email protected] 


Dean P. Chang, CAMTC #30613, LLCC
Lymph Drainage Therapy, CranioSacral Therapy, Brain Work

Dean can feel and sense the body's challenges in healing, whether it be physical, emotional, energetic, nutritional, or a combination of many factors. He then uses a multidisciplinary approach, which includes the modalities of CranioSacral Therapy, The Brain, Lymph Drainage Therapy, Visceral Manipulation, Energy Work and several others to facilitate the body's healing. Dean is a certified teaching assistant with the Chikly Health Institute and a teaching assistant with the Upledger Institute. He works with adults, infants/children (especially special needs), and animals.

Location   Carmichael | Downtown Sacramento
Phone        916-974-1420   Web deanpchang.com
Email         [email protected]


Dynamic Journeys
DeAnna Castleberry, CST-T, CLT, CMT, PTA
CranioSacral Therapy & Manual Lymphatic Drainage are gentle, hands-on therapies, one focusing on the fluids and membranes within the central nervous system and the other fluids paralleling, and in support of the cardiovascular and immune systems. Both function to nourish, protect, and eliminate waste to enhance homeostasis.
Location  EastSacramento
Phone  916-834-8954
Website  DynamicJourneys.net


Grace Arielle, CAMTC #34355
Wild Rose Healing ~ Heal Grow Bloom
Ready to live life in full bloom? Offerings are consciously woven to support women in coming home to their bodies (embodiment), healing, growing & blooming! Integrative healing sessions are preventative medicine for modern day stressors and past traumas. They're intended to bring you home to the comfort of your body. Sessions are an integration of many healing modalities to best meet present mind/body/spirit needs.
Mention WellBEing for $20 off 1st session. 
Location  East Sacramento | Virtual
Phone  916-541-8232
Web  WildRoseHealing.co
(Also, see display ad in Women's Wellness)

Hunter Mason, CAMTC #64066, CPT
Founder of Mend & Grow LLC
With 10 years experience, Hunter is passionate about helping others heal and grow through manual therapy and physical fitness. At Mend & Grow, you can expect effective pain relief treatments through sports massage, deep tissue, and trigger point therapy, as well as, generating well designed fitness programs to optimize athletic performance or to expedite injury recovery. Visit our site for more information and client feedback. 
Location  2955 3rd Avenue #204, Sacramento
Phone  916-598-8847
Email  [email protected] 
Web  Mendandgrow.com


reTreat Salon & Spa 
reVive, reFlect, reLax, and reCover at reTreat – Roseville's best escape for self care! Our experienced team is here to meet your inner soul needs with massage and energy healing. We also offer skin and nail care, waxing, teeth whitening, and more. Visit our website for details! Mention WellBEing for 10% off your first service.
Location  198 Cirby Way #135, Roseville
Phone  916-918-2969
Web  reTreatroseville.com


Rita A. Roxas, CMT, CAMTC #31176
Massage therapy for women
Decompress, relax, unbind, and restore… To address your needs I use hot towels, dry brushing, cupping and herbal compresses, with gentle to firm pressure to nourish body, mind, and spirit with techniques gleaned from more than 25 years in practice. (Men welcome by referral only)
Location  Fair Oaks
Phone  916 806-4244 (text/call)
Web  RestoreMassage4Women.com


Shea's Apothecary ~ Integrated Therapies for Whole Body Health
Therapeutic Vibrational Bodywork by Shea Darrow
Shea combines the discipline of modern science with the wisdom of ancient healing and integrates several disciplines including Bowen, Prana Therapy, Ayurveda Marma Point Therapy, Chakra Balancing, Microcurrent and Aromatherapy. Shea's primary focus is to promote healing in each individual irrespective of the disease or condition they have, to stimulate their innate healing power, and is dedicated and passionate in creating a truly personalized therapy for each individual. Shea is also a Clinical Master Herbalist in Ayurveda, TCM, and Western Herbalism. 
Location  2322 Butano Dr #210, Sacramento
Phone  916-208-9096  Web  SheasApothecary.com
Email  [email protected]


Tranquility Massage | Christina Boggs 
Massage • WATSU® • Reiki
Health and Wellness is a passion of mine. Layering modalities of wellbeing. Mind Body Spirit Soul. On Land and in Water. Client focused integrative intuitive touch. Using Young Living and homemade products. Making a daily difference in the community. Try our Be Brave Package: Guided Meditation, Reiki Chakra balance, and Relaxing Massage with Aromatherapy & Healing Hertz Sound Therapy for $99.
Location  Citrus Heights | Mobile 
Phone  916-807-5124
Website  TranquilityMassageByChristina.com


Wellness Sanctuary ~ Breathe, Relax, Unwind
Susan E. DeLacy, CAMTC #30431
Susan believes in the power of positive, intentional touch for the body, mind, and spirit. She has led an intuitive life and has personally experienced the healing properties of therapeutic massage with intent. Her passion for helping others experience the same doesn't stop there; She also offers: Far Infrared Sauna, Ionic Foot Detox, Oxygen Bar, and Relaxing Foot Soaks.
Mention WellBEing for a free Far Infrared Sauna session before 1st massage.
Location  5150 Fair Oaks Blvd, Ste. D-5, Fair Oaks
Phone  916-548-7242
Web  susandelacy.massagetherapy.com
CranioSacral Therapy

Diane Hovey, PhD, CAMTC #2923
Diane, a gifted intuitive, skillfully blends a highly tuned ability to listen to your body with years of training in the healing arts. Her gentle and compassionate touch invites your body to return to its natural balance… physically, emotionally, and spiritually. Headaches, TMJ, neck and spinal discomfort respond well to Diane's restorative care. Best of 2022 Cranial Sacral Therapy US Commerce Assoc.
Location  Fair Oaks
Phone  916-925-8200 | 916-965-6558
Email  [email protected]
Web  Transformational-Healing.net
Manual Lymphatic Drainage
Diane, a gifted intuitive, skillfully blends her well-honed intuition with years of training in the healing arts; listening to your body through her gentle and compassionate touch, guiding it back to its natural healing rhythm. Inflammation and pain ease as your body cleanses itself from toxins stored in your tissues. Lyme disease, fibromyalgia, scleroderma, generalized pain, stress related problems, edema, and post-surgical swelling respond well to Diane's restorative care. Book your appointment when you schedule your surgery.
Location  Fair Oaks
Phone  916-925-8200 | 916-965-6558
Email  [email protected]
Web  Transformational-Healing.net
Medical Massage

Joy Snipes, CMT, CST, MLD-C (CAMTC #92051)
Integrative Bodywork & Massage Therapy
I specialize in an integrative bodywork approach (craniosacral therapy, manual lymphatic drainage, myofascial release and Reiki), combining these modalities to facilitate the body's natural healing process. I am a certified Manual Lymphatic Drainage Therapist with the Academy of Lymphatic Studies and have specialized training for post cosmetic surgery and mastectomy patients.
Location  2657 Portage Bay E. #6, Davis
Phone  530-219-2418
Web  joysnipes.com

Diane Hovey, PhD, CAMTC #2923

Seeking an alternative path to relief from chronic pain? Your journey ends here. Diane Hovey, PhD, certified in Medical Massage (MM), Manual Lymphatic Drainage (MLD), Visceral Massage, Chapman Points, and Scar Tissue Reduction, has the skill and training to help assist in speeding your recovery. 
Location  Fair Oaks
Phone  916-925-8200 | 916-965-6558
Email  [email protected]
Web  Transformational-Healing.net
Myofascial Release

Slow Motion Myofascial Release Therapy
Sharon Fong, CAMTC #29931, Advanced MFR Therapist 

Myofascial Release Therapy is a structural integrative bodywork used for the relief of chronic pain and tension. Musculoskeletal pain is: eliminated, tension reduced, and range of motion restored by applying gentle sustained pressure into fascial (connective tissue) restrictions.Each session tailored to your individual needs.
Mention WellBEing for $10 off 1st session.
Location  2616 La Mesa Way, Arden Area
Phone  916-955-0214
Email  [email protected]