Click
HERE
for Prenatal/Postpartum Massage
Click
HERE
Women's Health & Wellness
Aquatic Bodywork (Watsu®)

Loving Aquatic Massage (Watsu®)~ Laurie Loving, M.S.W.
530-219-5118 • Davis
"Laurie's pool is a perfect tropical oasis to deeply let go; I arrive full of stress and muscle aches and leave feeling like I'm floating on a cloud."  Watsu® (water-shiatsu) is a unique modality that combines floating, stretching, and massage in a warm-water pool. Beautiful, custom gift certificates for family and friends experiencing stress, arthritis and other medical conditions, non-acute injuries and more. "Laurie is incredibly calming and her touch very therapeutic – physically and emotionally." Lovely for pregnancy – a weightless, relaxing gift. Let's co-create a world of safety, trust and healing; schedule now to experience floating to your peaceful, inner self! LLoving@dcn.org • LovingAquaticMassage.com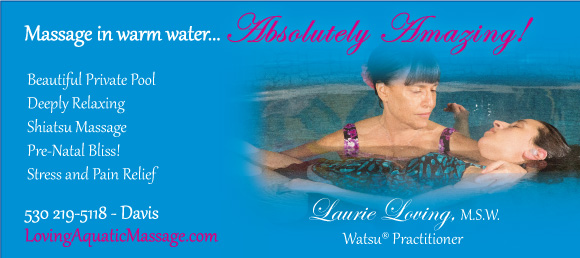 Bodywork/Massage
Adrienne L. Monarrez, CAMTC #41354
Certified Vibrational Raindrop Specialist ~ Whole Body Wellness
916-436-6149 • Fair Oaks
Experience deep, nurturing relaxation and find your still point for transformations, fresh starts, release of anxiety, and feeling out of sorts – let go of sciatica and pain.  Adrienne's nurturing touch rebalances, reboots, re-energizes, and relieves pain and trauma. Integrating Vibrational Raindrop, Massage, and Quantum Energetics Structured Therapy. Mention WellBEing for a free 30 minute consult & 20% off 1st session. Adrienne@WBWFairOaks.com  •  WholeBodyWellnessFairOaks.com


Amber Dowty, CAMTC #50791
Namaste Spa & Therapy
916-307-3843 • Loomis
I take great pride in providing the best healing massage, tailored to each client. I have 15+ years experience & multiple services to choose from, including; Swedish, Deep Tissue, Trigger Point, Ashiatsu, Hot Stone, Prenatal, Stress Relief, & Chakra Balancing massage. Mention WellBEing for $20 Off First Healing Service (new clients). namasteloomis@gmail.com • NamasteSpaAndTherapy.com


Caitlin Eichorn ~ A Room of Our Own Massage
530-217-9322 • Davis
I offer massage therapy and Cranial Sacral Balancing sessions, and specialize in working with LGBTQIA+ clients and clients with anxiety, depression, and symptoms of trauma. I use my sensitivity, intuition, and training to help clients calm their nervous systems, find relief from mental and physical distress, and find safety within their bodies. Mention WellBEing for $20 Off Your 1st 60 or 90 Minute Session. caitlin@aroomofourownmassage.com • ARoomofOurOwnMassage.com

Cindy McGonigle, Intuitive Touch for True Healing


CranialSacral, Lymphatic Drainage, Brainwork
916-203-4626 • Sacramento/Elk Grove
Cindy has the gift of sensing where the body is in need of healing. She approaches the process in a way that is very specifically tailored to the individual. Practicing 24 years, she has created a vast knowledge of the body systems, which allows her to instruct and guide the client in their healing process. MS, Lymes Disease, migraines, post surgical complications, sports injuries, Fibromyalgia, Lymphedema, and chronic pain are some of the issues that she has treated. Visa/Mastercard accepted. Mention WellBEing for $10 off first session.  insprngcmt@aol.com  •  iLoveWellBEing.com/Cindy-Mcgonigle


Dean P. Chang, CAMTC #30613, LLCC
Lymph Drainage Therapy, CranioSacral Therapy, Brain Work
916-974-1420 • Carmichael & Downtown Sacramento
Dean can feel and sense the body's challenges in healing, whether it be physical, emotional, energetic, nutritional, or a combination of many factors. He then uses a multidisciplinary approach, which includes the modalities of CranioSacral Therapy, The Brain, Lymph Drainage Therapy, Visceral Manipulation, Energy Work and several others to facilitate the body's healing. Dean is a certified teaching assistant with the Chikly Health Institute and a teaching assistant with the Upledger Institute. He works with adults, infants/children (especially special needs), and animals. changdp@comcast.net • deanpchang.com


Donna Warner, CAMTC #35582, Reiki Master, CMT
Radiant Touch Massage & Bodywork
916-544-8132 • Roseville & Remote
As a gifted intuitive, with an empath's heart and soul, and 20+ years working as a massage & reiki therapist, I specialize in treatment of chronic pain and depletion. I integrate Craniosacral Therapy, Deep Tissue, Swedish, Myofascial Release, Soft tissue Release, Trigger Point, Therapeutic Touch, Reflexology, Raindrop, & Energy Medicine. Mention WellBEing and receive a 20% off your first visit. donnawrnr8@gmail.com



Mija Cameto, CAMTC #68843
Therapeutic & Relaxation Massage
916-769-9813 • Shingle Springs
Clients say after our sessions that they feel beyond relaxed, deeply transformed, and nurtured. 20+ years experience including Swedish, Myofascial, Lomi Lomi, Reiki III & Karuna, Quantum, Polarity Therapy, Shiatsu, Deep Tissue, Soft Tissue Release, Trigger Point, Sports, Prenatal, Senior, Hospital, Hospice. MijaCameto.com


Osmosis Day Spa Sanctuary
A healing sanctuary in resonance with nature. 
707-823-8231 • Freestone, CA
Located in scenic Sonoma County, Osmosis is known for their unique Cedar Enzyme Bath, exceptional 75-minute massages, organic facials and Kyoto-style Japanese meditation gardens. Osmosis is a true sanctuary. Find relief from the emotional stress and physical pain of everyday life and experience total bliss! 209 Bohemian Hwy Freestone, CA. reservations@osmosis.com •  Osmosis.com


Shea's Apothecary ~ Integrated Therapies for Whole Body Health
Therapeutic Vibrational Bodywork by Shea Darrow
916-208-9096 •  Sacramento
Shea combines the discipline of modern science with the wisdom of ancient healing and integrates several disciplines including Bowen, Prana Therapy, Ayurveda Marma Point Therapy, Chakra Balancing, Microcurrent and Aromatherapy. Shea's primary focus is to promote healing in each individual irrespective of the disease or condition they have, to stimulate their innate healing power, and is dedicated and passionate in creating a truly personalized therapy for each individual. Shea is also a Clinical Master Herbalist in Ayurveda, TCM, and Western Herbalism. 2322 Butano Drive #210. shea@sheasapothecary.com • SheasApothecary.com
Bowen Therapy

Gabriele Streuer, BS, CBT ~ Davis Bowen Therapy
530-220-3100 • Davis
Bowen Therapy and Emmett Technique offer pain relief and improved joint and muscle function. Light touch and precise movements realign the entire body in a holistic way. Conditions treated include Fibromyalgia, TMJ, Neck/Back/Hip/Shoulder pain, and many others. Suitable for all ages and fitness levels. "One of the most effective ways to regain your natural balance!" -Dr. Querin Mention WellBEing Resource for $15 off your first session!  ownerdavisbowen@gmail.com • DavisBowen.com


Rich Pagel, CAMTC #70431 ~ BowenWorks Mind & Body
916-800-7686 • Rocklin
Bowenwork® promotes natural pain relief. It is a gentle system of touch that initiates a series of responses through stimulation of the nervous, musculoskeletal, fascial and energetic systems of the human body. Bowenwork® activates the innate healing mechanisms within the body so that, given time, the body will heal to the extent it is able. 6000 Fairway Dr. #17. Senior Discounts available.  rich@bowenworksmindandbody.com  •  BowenWorksMindandBody.com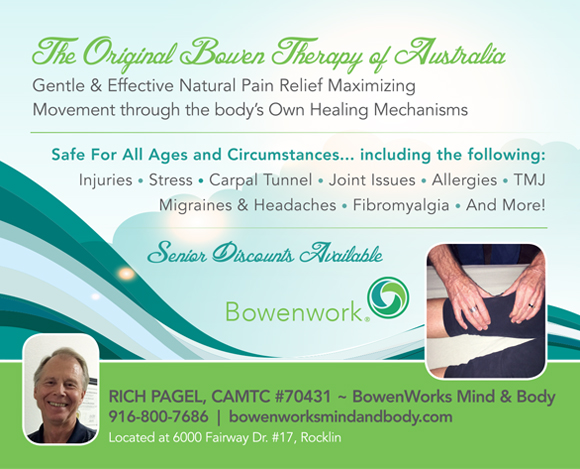 CranioSacral Therapy

Diane Hovey, PhD, CAMTC #2923
916-925-8200 / 916-965-6558 • Fair Oaks
Diane is a gifted intuitive who blends her ability to listen to your body with her years of training in the healing arts. With her gentle and compassionate touch your body returns to its natural balance…physically, emotionally, and spiritually. Headaches, TMJ, neck and spinal discomfort respond well to Diane's restorative care. Diane@Transformational-Healing.net • Transformational-Healing.net 


Brenda Gustin, PhD, CAMTC #44565
Union with the Heart
916-215-4590 • Rancho Cordova
Allow inspiration to be your inner guide. Learn to listen and interpret messages from your body for ease and grace to become your state of being. A variety of healing modalities (CranioSacral, Myofascial Release, Angelic Reiki, Pranic Healing, sound, Mandala, Yoga, Meditation, DYBO, FSM and FBE) provide integrated sessions. Gatherings for women provide a visceral experience in (k)new ways of Being to Create and Collaborate. Mention WellBEing for 15% off 1st session. bkgustin@gmail.com  • RadiantHealthSacramento.com
Jin Shin Jyutsu®

WAVE Energy Healing ~ Beth Lendrum, CAMTC #33124
Jin Shin Jyutsu®, Massage, Intuitive Guidance
916-467-6232 • El Dorado Hills & Virtual
Are you wired and tired? Stressed to the max? Relieve these tensions in your body & mind by experiencing Jin Shin Jyutsu®, a streamlined form of acupressure. With my 15 years experience, I incorporate various modalities to provide optimum physical & emotional wellness, as underlying emotional patterns that may hinder physical healing are naturally addressed. Interested in a complete approach to self-healing? Beth hosts interactive retreats that give you tools you can easily incorporate into your daily life to ensure you remain calm, balanced, and ignite productivity. Mention WellBEing for $20 off your first session or retreat.  bethjsj@gmail.com • WaveEnergyHealing.com

Cara Taylor, CAMTC #30268 Practitioner and Teacher 


916-204-8420 • Sacramento
A certified practitioner and instructor, Cara facilitates individual sessions and workshops at her office. She trained with the Master Mary Burmeister in the 1980's. The gentle art is practiced by placing fingertips over clothing in a designated sequence, inducing relaxation and reducing the effects of stress. This valuable complement to conventional health care, does not involve massage or manipulation of muscles. carataylor211@yahoo.com
Manual Lymphatic Drainage
Diane Hovey, PhD, CAMTC #2923


916-925-8200 / 916-965-6558 • Fair Oaks

Diane, a gifted intuitive, skillfully blends her well-honed intuition with years of training in the healing arts; listening to your body through her gentle and compassionate touch, guiding it back to its natural healing rhythm. Inflammation and pain ease as your body cleanses itself from toxins stored in your tissues. Lyme disease, fibromyalgia, scleroderma, generalized pain, stress related problems, edema, and post-surgical swelling respond well to Diane's restorative care. Book your appointment when you schedule your surgery. Best of 2011 – 2018 Medical Massage US Commerce Assoc. 2015 Open Care Patients' Choice Winner.   Diane@Transformational-Healing.net  •  Transformational-Healing.net  


Linda Dobranowski, CAMTC #52006 ~ Therapeutic Massage
916-956-3273 • Sacramento
The light, rhythmic strokes of lymphatic massage support healing, reduce swelling before and after surgery, relieve conditions such as arthritis, acute injuries, fibromyalgia, and skin issues such as rosacea and acne. Linda is certified in Dr. Vodder Manual Lymph Drainage, the original Austrian-based school of MLD, to treat lymphedema.  dendo@omsoft.com  •  PriyaAyurveda.com


Nicole Blankenship, CAMTC #23950 ~ HOPE Wellness Institute
916-965-6558 • Fair Oaks
Nicole excels in providing clients with rapid results, as she helps to manage chronic pain syndromes and increase injury recovery. She focuses on you, listens carefully to your specific needs, and designs a personalized treatment plan for you to work together. Mention WellBEing Resource for a 15 minute upgrade to your first session. Nicole@TheHWI.com • TheHWI.com
Medical Massage
Diane Hovey, PhD, CAMTC #2923


916-925-8200 /916-965-6558 • Fair Oaks
Seeking an alternative path to relief from chronic pain? Your journey ends here. Diane Hovey, PhD, certified in Medical Massage (MM), NeuroMuscular Therapy (NMT), and Manual Lymphatic Drainage (MLD) has the skill and training to help. Clients also come to Diane for compassionate and gentle scar tissue reduction post cancer treatment. Contact Diane to begin your healing journey. Best of 2011 – 2018 Medical Massage US Commerce Assoc. Diane@FocusedHealingTherapies.com • FocusedHealingTherapies.com


Venice Sullivan, CNMT, PH.D.
HOPE Wellness Institute
916-965-6558 • Fair Oaks
Venice brings over 30 years of training and experience to her Medical Massage and Neuromuscular Therapy practice. Her passion for unraveling the underlying mystery of long standing pain, from accidents, injuries or life, is the gift that brings relief for those fortunate individuals who work with her. Head and neck injuries are Venice's speciality. She works with you as an individual, adjusting treatment as your body dictates.  Mention WellBEing for 25% off initial consultation and analysis.  Hope@TheHWI.com  •  TheHWI.com


Lisa "Olivia" Moore, CAMTC #68739 ~ Seeds of Healing
916-757-2976 • Roseville
Olivia specializes in Orthopedic and Integrated Therapies, Medi-Cupping and low level light therapy. Successfully treating for chronic pain, acute injury, pre/ post surgery and working postural correction for optimal performance of the body. Olivia works with each client utilizing manual therapy, combined with corrective stretching and strength training for long term relief. Mention WellBEing for $10 off 1st treatment. SeedsofHealingCA.com
Myofascial Release

Sharon Fong, CAMTC #29931, Advanced MFR Therapist 
Slow Motion Myofascial Release Therapy
916-955-0214 • Arden Area

Myofascial Release Therapy is a structural integrative bodywork used for the relief of chronic pain and tension. Musculoskeletal pain is: eliminated, tension reduced, and range of motion restored by applying gentle sustained pressure into fascial (connective tissue) restrictions. Each session tailored to your individual needs. 2616 La Mesa Way. Mention WellBEing for $10 off your 1st session. slowmotionmfr@att.net


Steve Metzger, RN, CAMTC #26449 ~ Revive Therapy Massage
& Myofascial Release, "Holistic Healing with Compassion"
916-761-4852 • Sacramento & Fair Oaks
Myofascial Release John Barnes approach by RN therapist. Holistic healing with compassion. Pain relief, sports and women's health bodywork. Holistic Health Maintenance. Women's Health: certified pregnancy postpartum, fertility, breast and pelvic specialties. Postoperative and lymphatic drainage for liposuction, tummy tuck, breast and other surgeries. Treating the whole person when medication and surgery are not the answer. 
Mention WellBEing for $20 off your 1st session.
RNTherapist.com
Rolfing®
Bob Robinson, Advanced Certified Rolfer®


916-447-4329 • Sacramento
Rolfing focuses on long-term symptom relief by making long-lasting structural changes and restoring the body's natural ability to release stress, aches, and pain resulting in greater strength, flexibility, and balance. Designing proper treatment, in line with your goals and expectations, is how I work to ensure you achieve long-lasting results. This has often included working in tandem with physicians and therapists to stay in tune with your total health and well-being. I am personally trained by Ida Rolf and I have over 40 years experience as a Rolfer. 945 University Ave, Suite 100.  SacramentoRolfing.com