Click Here for Dining & Grocery Stores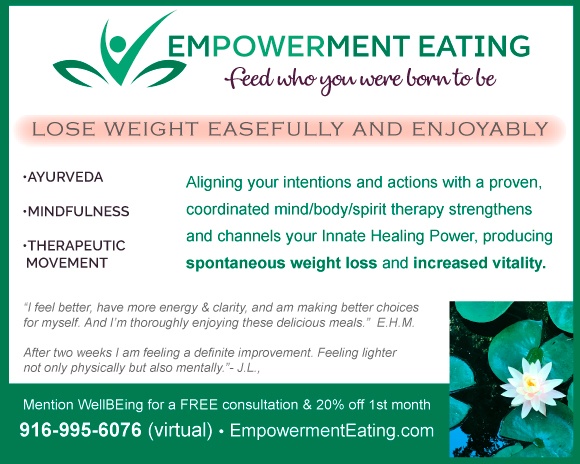 Amber Vodden, D.C.
Picture of Health Chiropractic & Nutrition

Dr. Amber Vodden specializes in Nutrition Response Testing, which uses kinesiology (muscle testing) to identify hidden body stressors and balance the body using whole food nutrition. It is a non-invasive method to identify food sensitivities, chemical toxicity, heavy metal toxicity, or organ imbalance which can create physical symptoms. 
Mention WellBEing for 30% off initial visit!  
Location  700 Sunrise Ave, Ste O, Roseville
Phone  916-788-2780
Web  PictureofHealthChiro.com

Art Taketa, Certified Ütritionist
ÜFORIA™ Science & Präctrition
Your health is an investment, not an expense! ÜFORIA™ uses your DNA to create a truly one-of-a-kind, custom nutritional supplement, blended just for you! Give your gut all the nutrients it needs and you'll see how incredible what your body can do!
Mention WellBEing for a free consult + 25% off a ÜStart kit. 
Location  Northern California
Phone  916-765-4236
Email  attaketa@yahoo.com
Web  arttaketa.uforiascience.com  |  practrition.com


Caippuccino Health Consulting ~ Chrissy Spencer
Primal Health & Autoimmune Protocol Certified Coach
I help individuals with autoimmune illness(es) reduce pain & flares with simple dietary changes. I was diagnosed with AI four years ago and in shifting my diet, I eliminated pain by 85%!  I'm excited to work with you and to help you do the same.
Mention WellBEing for a free consult + 20% off any package. 
Location  West Sacramento | Virtual
Phone  916-304-3076
Email  CaippuccinoHealth@gmail.com
Web  CaippuccinoHealth.com

Inspired Living ~ Dawna Weiss, PMP, CN

Dawna aligns your mind, body, and soul by delivering a scientific, clinical approach to food and herbs with an ancient but modern process for applying spiritual practices in everyday life. She is a clinical nutritionist, body-talk practitioner, medical herbalist, and also offers muscle testing, distance healing, personal coaching, and entity clearings.
Mention WellBEing for a free zyto scan + 10% off 1st session & supplements. 
Location  604 Sutter St #170, Folsom
Phone  916-761-8431
Web  inspiredlivingfolsom.com  |  fb.me/inspiredlivingfolsom


Sustainable Health Solutions Inc.
Donya Fahmy, CEO & Alchemist in Chief
Having successfully overcome two decades of chronic health problems that doctors and medication couldn't resolve, I'm passionate about helping you experience the magic and power of natural solutions to have more energy, better focus, and stronger immunity, so you can avoid or overcome chronic health problems and live free of pain, struggle, and unnecessary medical expenses.
Schedule a free Healthy Living Kickstart session to define your top 3 health goals & discover how to quickly achieve them at:  HealthyLivingKickstart.com

Location  Virtual
Phone  415-648-0127
Email  support@donyafahmy.com
Web  donyafahmy.com

Wellness The Easy Way
Justin Abramson, Holistic Health Coach
Justin is passionate about people. As a wellness coach, his life's goal is to help others become healthy and whole. He and his wife, Serena, and their young daughter enjoy nature, camping, hiking, and swimming. Are you ready to start feeling better than ever?
Mention WellBEing for a free consultation today! 
Location  El Dorado Hills
Phone  530-208-5533
Web  wellnesstheeasyway.com


Well with Lisa ~ Lisa Salisbury 
Health and Weight Loss Coach 
Is it possible to lose weight without counting, calculating, or weighing your food? Absolutely and I can help! I address the mindset challenges that keep you stuck in your current eating habits. I have actionable tools to manage your brain, allowing you to love your body, lose weight, and maintain that loss! 
Call for a free 30-minute strategy session & mention WellBEing for 15% off coaching package. 
Location  Roseville | Virtual 
Phone  408-429-9225
Email  mycoach@wellwithlisa.com
Web  wellwithlisa.com


Balance Within ~ Monica L. Biery
CPT: Certified Plant Nutrition, Cornell
I teach people to align themselves nutritionally, which helps to release what no longer serves: fear, anxiety, physical symptoms, emotions, & unwanted weight. Our bodies are designed for health and when properly fueled, we become balanced in our natural state, which is peace.
Mention WellBEing for a free 15 minute phone consult. 
Location  Sacramento | Virtual 
Phone  916-206-7665
Email  monica@balancewithin.us
Web  balancewithin.us


Balance Achieved ~ Wellness, One Habit at a Time
Terri Test, Certified Holistic Health Coach
Finding the perfect balance between your life and your habits is an ongoing process. I will help you uncover your own individual path to a life filled with more energy and balance, through a new perspective on self-care, nutrition, sleep, and recognizing your body's cues for imbalance. Empowered with the right tools and knowledge, you will be able to feel alive and in charge of how you feel every day. 
Mention WellBEing for a free health consult + $50 off any program.
Location  Sacramento | Virtual
Phone  916-798-0233
Email  terri@balanceachieved.com
Web  BalanceAchieved.com


Empowerment Eating ~ Terry Ermini, M.A., Founder
"Feed Who You Were Born to Be"
I empower women to lose weight once and for all and achieve vibrant health and balance with simple, delicious meals and powerful mindset shifts, tailored to their body type, life situation, and personal goals.
Mention WellBEing for a free 40-minute session & learn 3 steps to conquering cravings. 
Location  Virtual
Phone  916-995-6076
Email  EmpowermentEating@gmail.com
Web  EmpowermentEating.com

VeganMentor ~ Linda Middlesworth, CPT: Certified
Plant Nutrition, Cornell; Food for Life Instructor, PCRM
I offer a "30-Day Vegan Health Watch" which is a monitored, daily coaching of your healthy, whole foods, plant based diet for weight loss & optimal health. As a Cancer Project: Food for Life Instructor, PCRM, I offer cooking & nutrition classes showing which foods promote weight loss, cancer prevention & survival, and diabetes prevention & reversal. Member of American College of Lifestyle Medicine.  
Location  Varied Locations
Phone  916-798-5516
Email  veganmentor@gmail.com
Web  VeganMentor.com  |  Meetup.com/sacvegansociety-org


Vital Health & Wellness ~ Tasha Karidis, CHWC, CYT
Cert. Health & Wellness Coach; Cert. Yoga Teacher
Together we will create a holistic approach for healing and to reach your goals, as we look at lifestyle, exercise, attitude, and nutrition. We'll utilize yoga, yoga nidra, meditation, detoxifying ionic foot baths, and nutritional plans to create a more vital you.
Mention WellBEing for a free 15 minute phone consult.  
Location  Cameron Park | Virtual
Phone  916-642-6377