Click Here for Dining & Grocery Stores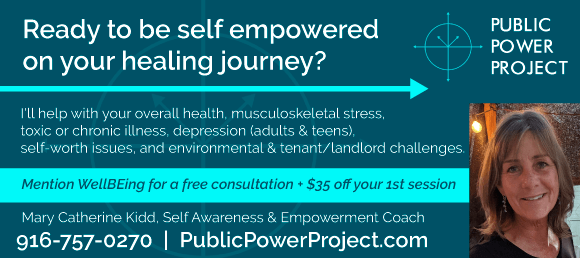 Amber Vodden, D.C.
Picture of Health Chiropractic & Nutrition

Dr. Amber Vodden specializes in Nutrition Response Testing, which uses kinesiology (muscle testing) to identify hidden body stressors and balance the body using whole food nutrition. It is a non-invasive method to identify food sensitivities, chemical toxicity, heavy metal toxicity, or organ imbalance which can create physical symptoms. 
Mention WellBEing for 30% off initial visit!  
Location  700 Sunrise Ave, Ste O, Roseville
Phone  916-788-2780   Web  PictureofHealthChiro.com


Sustainable Health Solutions Inc.
Donya Fahmy, CEO & Alchemist in Chief
Having successfully overcome two decades of chronic health problems that doctors and medication couldn't resolve, I'm passionate about helping you experience the magic and power of natural solutions to have more energy, better focus, and stronger immunity, so you can avoid or overcome chronic health problems and live free of pain, struggle, and unnecessary medical expenses. Schedule a free Healthy Living Kickstart session to define your top 3 health goals & discover how to quickly achieve them at:  HealthyLivingKickstart.com

Location  Virtual
Phone  415-648-0127
Web  donyafahmy.com
Email  support@donyafahmy.com

Wellness The Easy Way
Justin Abramson, Holistic Health Coach
Justin is passionate about people. As a wellness coach, his life's goal is to help others become healthy and whole. He and his wife, Serena, and their young daughter enjoy nature, camping, hiking, and swimming. Are you ready to start feeling better than ever?
Mention WellBEing for a free consultation today! 
Location  El Dorado Hills
Phone  530-208-5533
Web  wellnesstheeasyway.com


Well with Lisa ~ Lisa Salisbury 
Health and Weight Loss Coach 
Is it possible to lose weight without counting, calculating, or weighing your food? Absolutely and I can help! I address the mindset challenges that keep you stuck in your current eating habits. I have actionable tools to manage your brain, allowing you to love your body, lose weight, and maintain that loss! 
Mention WellBEing for a free 30-min strategy session & 15% off coaching package. 
Location  Roseville | Virtual 
Phone  408-429-9225  Web  wellwithlisa.com
Email  mycoach@wellwithlisa.com



Balance Within ~ Monica L. Biery
CPT: Certified Plant Nutrition, Cornell
I teach people to align themselves nutritionally, which helps to release what no longer serves: fear, anxiety, physical symptoms, emotions, & unwanted weight. Our bodies are designed for health and when properly fueled, we become balanced in our natural state, which is peace.
Mention WellBEing for a free 15 minute phone consult. 
Location  Sacramento | Virtual 
Phone  916-206-7665
Web  balancewithin.us
Email  monica@balancewithin.us
Web  balancewithin.us


Balance Achieved ~ Wellness, One Habit at a Time
Terri Test, Certified Holistic Health Coach
Finding the perfect balance between your life and your habits is an ongoing process. I will help you uncover your own individual path to a life filled with more energy and balance, through a new perspective on self-care, nutrition, sleep, and recognizing your body's cues for imbalance. Empowered with the right tools and knowledge, you will be able to feel alive and in charge of how you feel every day. 
Mention WellBEing for a free health consult + $50 off any program.
Location  Sacramento | Virtual
Phone  916-798-0233
Web  BalanceAchieved.com
Email  terri@balanceachieved.com

Pétra Hawes-Glenesk, M.A., ICF-ACC, NBC-HWC
Board Certified Integrative & Holistic Health Coach
Start Optimizing Your Life! I am here to empower and motivate you to cultivate your best self, while enhancing your resilience and overall wellbeing. In private practice since 2012, I specialize in HeartMath, sleep health, brain health, stress management, anti-aging, and trauma informed coaching, with a Master's in clinical psychology. 
Mention WellBEing for a free 15-minute introduction consultation. 
Location Virtual
Phone  916-870-0846   
Email  petra@techforstress.com   
Web techforstress.com
View Pétra's WellBEing blog post on Quality Sleep for Energy & Resilience HERE