Addiction Recovery Coaching
Kate Steele, Mindful Recovery Coach
Certified Integral Coach & Meditation Teacher
916-712-4351 • Fair Oaks | Virtual
Full freedom from addiction is possible! I offer transformational coaching and meditation training to support people in any stage of recovery from addiction. Recovery coaching helps people heal painful patterns and beliefs that led to addiction and move into a life of inner peace, joy, and well-being. I am also a certified Calling In The One relationship coach and can support you in transforming your love life. Mention WellBEing for a free phone consultation and 50% off your first coaching session. kate@shinebrightlycoaching.com | shinebrightlycoaching.com 
Astrological Coaching

Ann E Cowles, Ph.D. ~ Ann's Quantum Astrology
530-902-1823 • Virtual
Do you wonder who you really are and how to live in alignment with your true self? I decode your Divine Astrological Blueprint to reveal strengths, challenges and lessons you face, and offer extensive insights (including optimal timing) to improve your life. Follow-up coaching available to empower deep transformation. Mention WellBEing for 30% off any one reading. Quantum2017ann@gmail.com   |   AnnCowles.com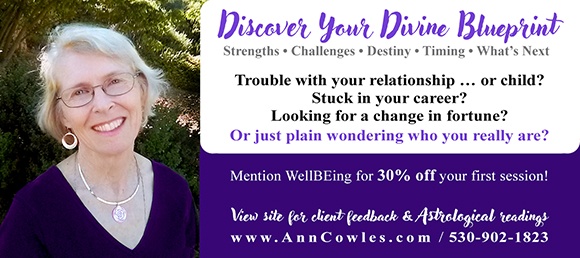 Counseling & Psychology
Andrea Lambert, LMFT #007126
EMDR Practitioner, Hypnotherapist
916-966-0411 | 866-204-6384 • Sacramento
Are you ready to release emotional pain and take charge of your life? Andrea Lambert provides focused counseling with fast results, supporting you to release problems with anger, addictions, grief, stress, depression, anxiety, abuse, marriage/relationship issues, and more. Practicing in Sacramento since 1975, Andrea offers counseling for individuals, couples, teenagers and families. Affordable fees. Insurance accepted. Call and mention WellBEing for a free ½ hour consultation. Andrea@AndreaLambert.com   |  AndreaLambert.com

Daniel A Coffman, PhD, Transpersonal Health Psychologist (PSY22096), Board Certified in Biofeedback & Applied Psychophysiology (BCIA3105)
530-632-3997 • Auburn
Health challenges can be opportunities for spiritual growth. As a licensed psychologist, trained in both conventional and alternative systems of psychology, I provide treatments for anxiety, depression, insomnia, and chronic pain. In addition to working with health issues, I help individuals integrate exceptional experiences, such as OBE/NDE, precognitive dreams, paranormal events, and spiritual emergence. 550 High St #208. CoffmanConsulting.com



Genevieve Fahey, LMFT #102153, Crystal Intuitive
530-755-6776 • Sacramento
I bring together the traditional scientific side of psychotherapy and spiritual/intuitive healing for a more holistic approach.I offer integrative psychotherapy, as well as crystal intuitive sessions, either of which can be a stand alone or used simultaneously within a session. I specialize in healing trauma, anxiety, depression, grief, and loss. Located at 1809 19th St. Mention WellBEing for $20 off first session.  therapy@genevievefahey.com  |  genevievefahey.com  |  instagram.com/tellyourtherapist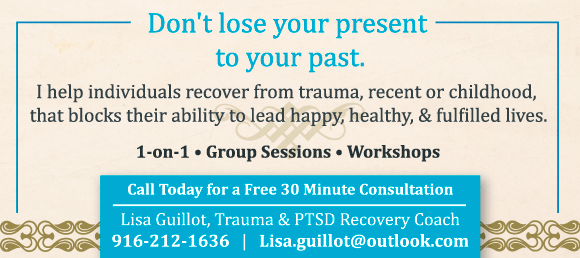 Helene VanSant-Klein, BCPC, RN, MHt, LMFT, LPCC
LMFT #37131, LPCC #91, Certified in EMDR
916-342-0380 • Fair Oaks
Helene works with adults, couples, adolescents and children utilizing EMDR, Hypnotherapy, Regression, Brainspotting, Somatic Archeology, Heart Centered Therapy, Play Therapy, EFT, along with more traditional approaches to facilitate growth, healing and transformation. She is a Board Certified Professional Counselor, Board Certified PTSD Clinician, Diplomat, and Fellow of the American Psychotherapy Association, and is a Trauma Specialist, Certified Master Hypnotherapist, and an EMDRIA Approved Consultant. 4088 Bridge St. #5. HeleneVanSantKlein.com  


Kimberly Greene, LMFT & Trauma Specialist
916-757-2681 • Roseville
Kimberly works with adults, couples, adolescents and children utilizing EMDR, CRM, Brainspotting, Guided Imagery, Breath work, Heart Centered Therapy, Play Therapy and psychotherapeutic approaches to facilitate growth, healing and transformation. She is the creator of "Release & Renew Retreats", offering wellness retreats using mind-body connection and trauma modalities to help individuals become "unstuck". "Step into Self again!" K.Greene. 1899 E. Roseville Pkwy #100. Mention WellBEing for $20 off 1st session.   kimberlygreenelmft.com  |  ReleaseRenewRetreats.com

Dr. Marla McMahon ~ SATYA Well-Being, A Mindfulness Center
Clinical Psychologist PSY 15936, Yoga & Meditation Teacher
916-290-3994 • Sacramento
I collaborate with my clients using various mind-body approaches to therapy. Traditional psychotherapy and Yoga Psychotherapy are offered including: mindfulness meditation, iRest  inspired yoga nidra, and gentle yoga.  Conditions treated are varied including:  women's issues, stress, anxiety, emotional eating, depression, trauma, insomnia, post-partum concerns, and life adjustment issues. mcmahonpsy@hotmail.com  |  Satyawellbeing.com

Regina Faridnia, LCSW
Indigena Counseling & Wellness Center
408-460-5030 • Granite Bay
Regina is an integrative psychotherapist who works with adults, couples, and adolescents.  She is certified in EMDR & Brainspotting and integrates the following modalities in her practice: Mindfulness, Biofeedback, Relaxation Training, Mind Body Medicine (group available), and Vibroacoustic & Integrated Listening Sound Therapies. 6049 Douglas Blvd. #20B. Mention WellBEing at your 1st Vibracoustic Sound Therapy Session for $15 off 20 minutes OR $30 off 45 minutes. indigenacounselingandwellness@gmail.com  |  indigenacounseling.com
Creative Arts Therapy
ImagePathways™ Creative Arts Therapy (Women & Children)
Deborah Jones-Toohey, MA, Transformative Arts, EMDR
916-672-8409 • Newcastle
We offer a unique approach to therapy, using creative process as a pathway for emotional healing, personal growth, and transformation. Collage, paint, clay, drawing, mixed media, and SandPlay help to clarify issues and may be enhanced by EMDR. This integrated combination allows you to get beyond persistent life challenges and self-limiting beliefs, moving you towards your full potential and a greater sense of well-being. Mention WellBEing for a FREE 30 min. consult, plus $25 off 1st session or 10% off "Women's Creative Insight" offerings.  deborah@imagePathways.com  |  imagePathways.com

Grief Recovery
EnergyM ~ Michele Mariscal PhD, Owner   
Grief Recovery & HeartMath® Specialist
916-402-6188 • Virtual | Sacramento
Whether your heart is broken now or you feel stuck from a past loss, I can help you move through action steps to complete unfinished emotional pain, using an evidence based process. I also provide HeartMath classes, mentoring, and keynotes.  Combining my background in health, wellness, and spiritual development and healing, I'll help you find greater meaning and movement forward in your life. Mention WellBEing for a complimentary 20 minute session + 20% off a class or coaching package. info@energym.org  |  EnergyM.org
Life Coaching
Heather Needham, Intuitive Healer and Coach
530-304-6340 • Davis | Virtual
You've dedicated your life to family, work, and community and want to feel more in touch with your soul, as you navigate transitions in your personal and professional life. During sessions with Heather, you'll receive intuitive guidance, coaching, sound healing, and practical tools to get you in touch with your inner self, so you can create a life of fun, connection, and fulfillment. Mention or use code ClearPath2019 for 20% Off an intuitive sound healing session! heather@heatherneedham.com  |  HeatherNeedham.com

Kristin Carpio, Wellness Coach, Energy Therapist
PSYCH-K, Cranial Sacral Therapy, EFT, Massage
916-508-3623 • Sacramento/Land Park
Create and experience a joyful life as you move into the power of remembering who you truly are: A Creator. Are you creating your life from a place of love, joy, and freedom, with limitless possibility? Or are you creating from a place of fear, doubt, and uncertainty? Working with Kristin, will help you to unlock your limitless potential by shifting how you perceive yourself and  the world around you, while feeling reassured that the power of the universe is always supporting you. Mention WellBEing for $25 off your 1st session.


Stephanie Dodds, Transformational Life Coach
EFT, Matrix Reimprinting, Yoga & Reiki
916-952-7511 • Sacramento | Virtual
Let go of emotional distress and release trauma in the body, creating a new, future trajectory with EFT & Matrix Reimprinting. 1-on-1 and group sessions offered in person or via Zoom. EFT Level 1 & 2 trainings also available. 106 L St #5 Old Sacramento. Free EFT Tapping videos online at: Youtube.com/c/TappingwithSteph.  Mention WellBEing for 50% OFF 1st session +  FREE "Tapping through the Chakras" PDF download.  steph@stephdodds.com  |  StephDodds.com


Tirrah
Thorp ~ 
Love Your Beliefs
PSYCH-K® Facilitator, Life Coach
916-259-0052 • Mobile | Virtual
Using an effective technique called PSYCH-K®, I'll help you discover the beliefs that are blocking you from achieving your goals. Together, we'll create new, self-enhancing beliefs and install them to unlock your potential to achieve your dreams! Some examples of issues I work with are: spirituality, self-esteem, relationships, grief/trauma, abundance, career, and health.
Mention WellBEing for $25 off your 1st 1-hour session. 
Tirrah@Loveyourbeliefs.com  |  
LoveYourBeliefs.com
Parent Coaching

Elizabeth Cummings, Parent Coach
916-467-4958 • Virtual
Create a new relationship with your child. Are you a parent that feels frustrated, hopeless, and tired of the power struggles? I'll help you to create a positive connection with your child and a more peaceful, harmonious home. Visit website for more info and a free 30 minute discovery call. eliz.cummings123@gmail.com  | ElizabethCummingsCoaching.com
Spiritual Coaching/Counseling
Peace in Healing ~ Alexis Prince
707-543-6455 • Roseville | Lincoln
My goal is to provide guidance & healing to the mind, body & spirit. I use a variety of techniques to facilitate wellbeing and clarity, while promoting long term self-reliance through practical techniques to raise consciousness, clear confusion, soothe & assist in the healing process. Ordained Minister with certifications in: Reiki (Master Teacher), Crystal Healing, Psychic Mediumship, and Hypnotherapy. Tarot Reader for 30+ years. Member of American Tarot Association, International Reiki Association, & Hibiscus Moon Crystal Academy. Mention WellBEing for 50% Off Your 1st Session!  alexis@peaceinhealingU.com  |  peaceinhealingU.com  


Elena Hayden, Soul Coach & Energy Activator
Inspiring You to Live Your Truth and BE Who You Are
916-769-8096 | 916-836-7679 • Folsom
Are you living your Truth? Step into your true self and inner connection.  Align to your authentic and true essences, innate gifts, and clarity that are within you. Allow me to guide you there and discover your own answers to shifting to a joy-filled and empowered life. Mention WellBEing and receive $25 off your first session. Findyourtruthguide.com  |  InspireYourTruth.com

Julia Rinne, Soul Investigator


Deeply Holding Space for Your Transformation
916-764-7967 • Midtown | Virtual
Painful life experiences have negative impacts on each of us. The effects of these experiences can linger and cause deep emotional pain.  As a Spiritual Coach, I'll guide you into a place of deep understanding and acceptance of self and life. From this place, pain diminishes and is replaced by ease, peace, and a wonderful freedom to be you! I use several techniques that work with the negative beliefs you took on as a small child about yourself, others, and the world.  My clients report increasing comfort and ease in their life. Mention WellBEing for a free 1 hour consultation + 25% off of a Belief Transformation Basics class.  jrinne@comcast.net 


Soul Safari ~ Suzanne Thibault
Human/Animal Relationship Expert
916-426-8068 • Sacramento | Virtual
Have you ever felt not good enough, strong enough, or loved enough? This core fear is easily transformed through advanced energy healing with God. Suzanne supports both people and animals to transform fear into clear confidence for a peaceful, happy life. Mention WellBEing for $10 Off Any 1-on-1 Service. Soul-Safari@outlook.com  |  SuzanneThibault.net



Wendy Flaherty ~ Simple Spirituality & Soul-Full Living
Soul Recovery Master, Teacher, Mentor
916-474-1341 • Carmichael | Phone
I have been helping people transform deep-seated patterns of disempowerment, fear and trauma for over 20 years. Learn to craft a life you love and navigate the rough spots with authenticity and presence. If you are serious about transformation and living your divine purpose, let's talk! I offer one-on-one sessions, circles and 12 week coaching programs. I also assist healers in creating and deepening their practices. It is my privilege to support you on your journey. Mention WellBEing for a 30 minute free call + 15% off an individual session or 10% off a coaching package.  wendy@wendyflaherty.com  |  wendyflaherty.com
Trauma & PTSD Coaching
Lisa Guillot, Trauma Recovery & PTSD Coach
916-212-1636 • In Person & Virtual
Not only am I a coach, I am also a survivor. I specialize in Complex Post Traumatic Stress Disorder and work with individuals that have experienced childhood developmental trauma, attachment disorders, and/or PTSD. While talking about it may cause stress initially, releasing the trauma can be life changing! Contact me for a free, 30 minute discussion about what trauma recovery entails. We will not discuss your specific trauma on this call; We will focus on your coping skills. Lisa.guillot@outlook.com  |  fb.me/TraumaRecoveryCoaching