(Also view Spiritual Coaching and Health Coaching)
Addiction Recovery Coaching

S.H.A., LLC  Surrender ~ Heal ~ Ascend 
Michael Shaldone, Cert. Addiction Counselor, Yoga Instructor 
Michael is extremely passionate and selfless in his mission to be the catalyst to help others change their lives. With over 6,000 hours in addiction counseling, Michael uses mindfulness, nature, nutrition, yoga, Halotherapy, and cognitive behavioral therapy as healing modalities; He teaches these in recovery from his own personal experience.
Mention WellBEing for a free initial consult.
Location  Phone | Virtual
Phone  916-804-2998
Web  SurrenderHealAscend.com
Brainspotting

Whole Heart Brainspotting
with Stephanie Henderson
My heart is for connection, healing, joy, and openness. My Work, in Brainspotting and Life Coaching, empowers healing from the many forms of trauma: anxiety, depression, Bipoc oppression, generational patterning, and present-day strongholds. I look forward to watching you heal!
Location  8421 Auburn Blvd #120, Citrus Heights | Virtual
Phone  916-778-8560
Web  wholeheartbrainspotting.org
Counseling & Psychology
Andrea Lambert, LMFT #007126
EMDR Practitioner, Hypnotherapist
Are you ready to release emotional pain and take charge of your life?  Andrea Lambert provides focused counseling with fast results, supporting you to release problems with anger, addictions, grief, stress, depression, anxiety, abuse, marriage/relationship issues, and PTSD.  Practicing in Sacramento since 1975, Andrea offers counseling for individuals & couples and specializes in EMDR. 
Location  Sacramento
Phone  916-966-0411 | 916-432-0465 (cell)
Email  [email protected]
Web  AndreaLambert.com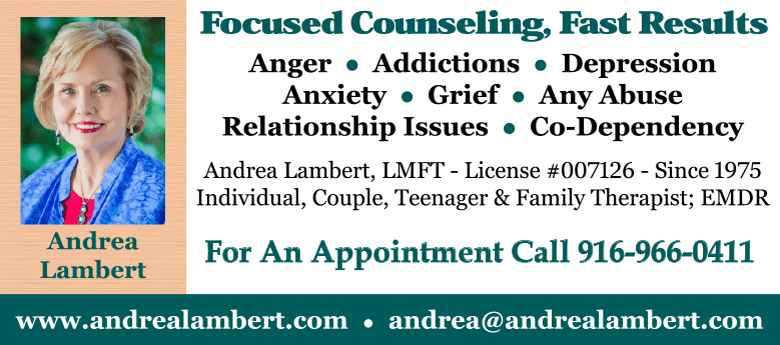 The RISE Community


Anika Harral, LCSW, Certified Transitional Life Coach 
Anika helps support other women through life coaching or therapy and specializes in somatic care, life transitions, trauma, loss, and depression. Stress and trauma have an imprint on our bodies, Anika focuses on bringing alignment to your body, mind, spirit and heart. She will help unveil your own wisdom and strengths, and what is getting in your way of accessing them.
Location  Roseville | Virtual
Phone  279-888-1889
Web  TheRiseCommunity.org 


The Attach Place Center for Strengthening Relationships, LLC
Ce Eshelman, LMFT #27146, KAP Certified Practitioner
We offer state-of-the-art attachment and trauma treatment, including Ketamine-Assisted Psychotherapy, Neurofeedback, and Somatic Experiencing with EMDR and Neurosculpting to those reclaiming their joy, body aliveness, and personal agency in life, love, and satisfying work. I am passionate about this work because it has personally helped me recover freedom from complex PTSD and deep body-held trauma. I am honored to guide others in unfolding their own mental wellness every day as old wounds and painful trauma symptoms fall away.
Mention WellBEing for 20% off 1st 5 Neurofeedback Sessions and/or 50% off Inner Circle Wellness Package (includes 2 KAP journeys and 2 Pre & Post Neurosculpting sessions; a $675 savings).
Location  8801 Folsom Blvd #285, Sacramento
Phone  916-403-0588
Web  AttachPlace.com | SacramentoKetaminePsychotherapy.com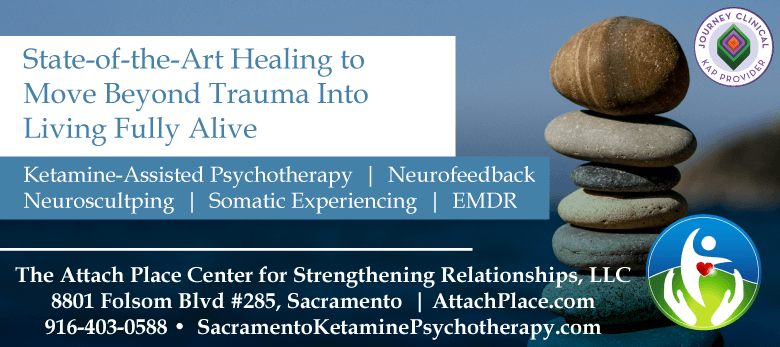 Dr. Nicola Simmersbach, PsyD, LMFT, LPCC
My passion is to help individuals, couples, and families find peace and joy in their lives. I'm a licensed, and EMDR certified, therapist, specializing in anxiety, depression, relationships, and trauma. I provide evidence-based therapies to help clients manage emotions and create more fulfilling lives. 
Location  East Sacramento | Teletherapy
Phone  916.952.8594
Web  DrNicola.net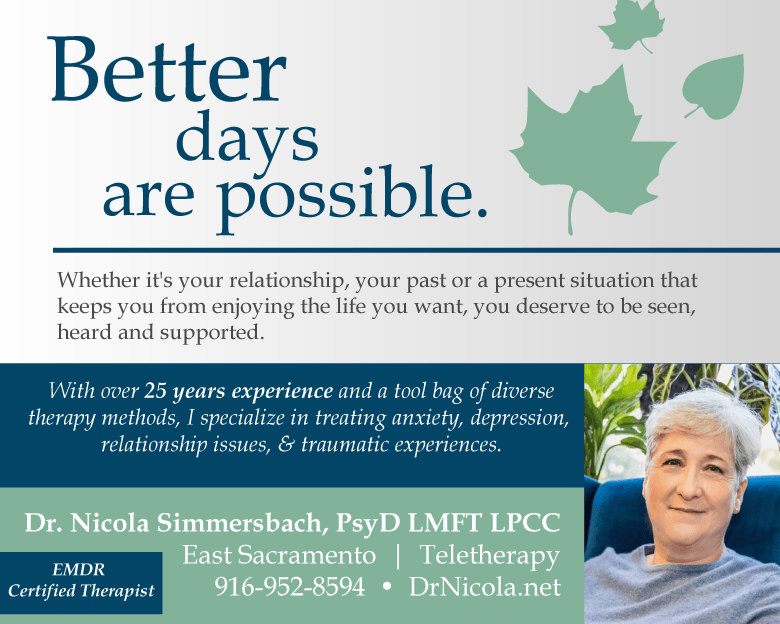 Relationship Therapy Center
Nancy Ryan, LMFT, CEO
Heal, Grow, and Love Well. Over 20 therapists help you with relationship therapy using the evidenced – based Gottman Method Couple Therapy, as well as help overcoming anxiety, depression, grief, trauma, and life transitions. Call today for immediate scheduling.
Location  Roseville | Fair Oaks | Virtual
Phone  916-426-2757 (call/text)
Web  sacrtc.com

In Service of Spirit ~ Rylee Roush, RSME/T
Rylee was a dancer turned student of psychology, and has since been dedicated to the intersection of psyche and soma. Her work in somatic therapy is a heart-centered and body-informed process that incorporates somatic inquiry, therapeutic dialogue, mindfulness, and expressive arts to explore discomforts and cultivate ease.
Mention WellBEing for $50 off your first session.
Location  Placerville | Virtual
Phone  916-384-6098
Email  [email protected]
Web  ryleeroush.com
Counseling for Kids & Teens

Restoring Light Counseling Center
Haley Myers, LCSW – Owner & Clinical Director
Restoring Light Counseling Center is a psychotherapy practice specializing in counseling support for children, teens and their families. We offer individual and family therapy as well as parent coaching to help kids find relief from anxiety and depression. Contact me for a free consultation.
Location  4811 Chippendale Drive #501, Sacramento
Phone  916-538-9953
Web  restoringlightcc.com
Emotion Code

Cynthia Ruiz, HHP, CECP
As a Certified Emotion Code Practitioner, Cynthia strives to help you overcome whatever is holding you back, so you may achieve your goals. A session with Cynthia may assist in discovering and releasing trapped emotions, healing body ailments faster and more efficiently, balancing Mind, Body & Spirit, benefitting love & relationships, creating success, and more! In the healing arts community for nearly 20 years, she'll personalize each session to your specific needs.
Free Consultation + Mention WellBEing for a complimentary deep relaxation session at 1st appointment.
Location  Phone | Virtual 
Phone  916-752-8249
Email  [email protected]
Life Coaching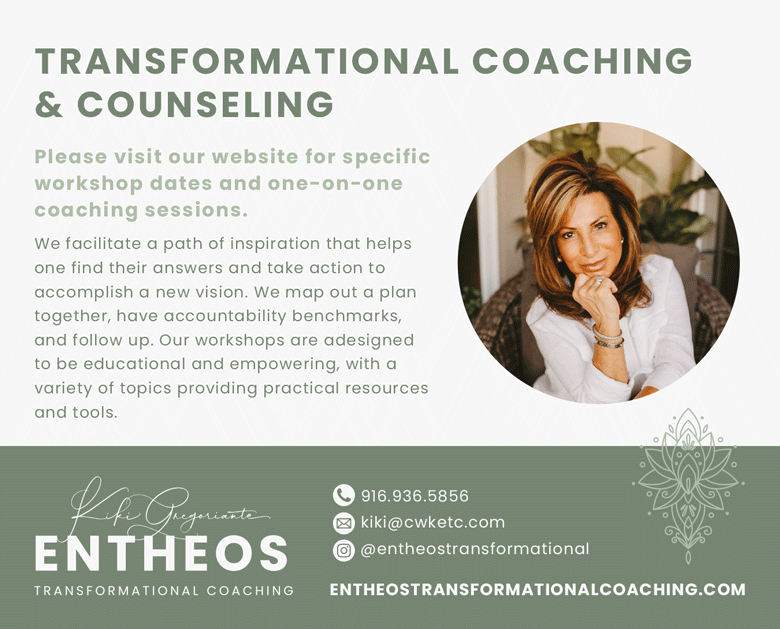 Adriana McManus  ~  Wellness-Soulutions
Nature Connected Coach and Integrative Manual Therapist
Nature connected coaching is a unique branch of life coaching that uses nature to help create a deeper experience of self discovery. Whether in a park or virtually, my goal is to create a safe space and guide you to connect to your own true nature and achieve your goals.
Mention WellBEing for a free 30-minute consultation, PLUS buy 3 sessions, get one free!
Location  Fair Oaks, Mobile, Virtual
Phone  916-467-8091
Web  wellness-soulutions.com

Deep Awakenings Hypnotherapy & Coaching


Donna Krch CCHT, Certified Life Coach
Feel like your own worst enemy sometimes? Life comes with ups and downs. How you process and respond greatly colors your journey. I specialize in helping you learn to be kind and gentle to yourself through the challenges, so that you can trust yourself and fully celebrate the joys. Become your own best friend! Donna has over 7 years experience and offers:
Free Consultation + Mention WellBEing for 10% Off. 
Location  3112 O St #9, Sacramento
Phone  916-256-7762
Web  DeepAwakenings.com
(Also, see display ad in Hypnotherapy)



Wild Eyes Coaching and Consulting
Emily Nascimento, Owner
We all want a life that is enlivened with purpose and meaning. I journey with you through my soul-led coaching, ceremony, embodiment, and nature-based practices to find and create your version of a soul-aligned life. Complimentary discovery session. 
Location  Virtual | Sacramento
Phone  971-599-0965
Web  wildeyescoaching.square.site | @seeingwithwildeyes


Jason Jurado ~ One Path Coaching
Neuro Linguistics (NLP), Hypnosis, Time Line Therapy™
Find peace of mind and improve your well-being, while focusing on your mental health. I offer compassionate and personalized support for a variety of issues, including anxiety and stress reduction. Take the first step towards healing and schedule an appointment today.
Mention WellBEing for 50% off 1st session.
Location  Winters | Virtual
Phone  650-701-3622
Email  [email protected]  
Web  OnePathCoaching.com

Jessica Carlson, CCM, CHHP, PCC


Spiritual Guidance, Energy Work, Consultant
Work with Jessica to gain a new and deeper understanding of Self, your experiences, and the abilities within you. From this place of understanding you will be able to make changes in your life, work through areas that are blocking you, move into a state of balance, and tap into your highest potential.
Mention WellBEing for $30 off of 1st session
Location  9706 Fair Oaks Blvd #150 Fair Oaks | Virtual
Phone  916-765-8719
Web  jessicacarlson.org

Kimber Chin, MBA


Master Level Mindpower Coach, Reiki Master, Author
Ready to start living with peace and joy, no matter what's going on around you? Our mind is a powerful ally you can harness with tools I teach. Your truth is inside you, and together we will uncover what is best and next for you. I'm a late stage cancer survivor, a low carb foodie, single working mom who gets it that life is chaotic. I offer 1:1 and group coaching, reiki sound healing, in person and online classes, and mini-retreats. Subscribe free at my website for upcoming events and uplifting blog articles!
Mention WellBEing and get your first year of Live to Thrive for just $99 (a $199 value).
Location  3175 Sunset Blvd #107, Rocklin | Virtual
Phone  916-316-4156
Web  kimberchincoaching.com/wellbeing

Entheos Transformational Coaching


Kiki M. Gregoriante, LMFT, CHT, Ford Institute Coach
In the mental health field for over 3 decades, my passion is in helping people break free of their emotional baggage and fears, allowing them freedom and a path to create an extraordinary life for themselves. Learn more about my coaching, workshops, and retreats on my website!
Phone  916-936-5856
Email  [email protected]
Web  Entheostransformationalcoaching.com