Astrological Coaching

Ryan Strong, Ayurvedic Doctor, Vedic Astrologer
The Center for Ayurvedic and Yogic Healing
928-607-7588 • Midtown Sacramento
Develop enlightened peaceful living, mental and physical radiance, and a deeper alignment with your place in the universe. Ryan has spent over 15 years studying Vedic Astrology (Jyotish), Yogic philosophy, & Ayurveda. Ryan was ordained by his teacher, Mr. Roy Eugene Davis (a direct disciple of Parmahansa Yogananda), to teach Kriya Yoga. 2023 N Street #100. Mention WellBEing for 20% off any Vedic Astrology or Ayurvedic Service.   StrongHealthCenter.org


Teresa Campos, Intuitive Astrologer, Coach
Helping women to live their bold, beautiful life.
916-849-0903 • Virtual
I offer an evolutionary approach to coaching using your internal map to guide you to who you are here to BE and what you are here to share. I will help you create clarity about the life you really want and discover the essential building blocks for fulfilling that desire. Come fully alive to live what is truly possible, embrace your destiny and boldly step onto your path of authentic purpose.  Mention WellBEing for your no cost 50 min Discovery Consultation. teresa@teresacampos.com • teresacampos.com
Child Counseling & Support

Tamara Richey, Counselor for Children
916-952-1595 • Roseville or Your Home
I offer Therapeutic Play sessions for children who struggle with sensitive nervous systems, anxiety, and/or lack of self-confidence. My goal is to uncover the issues behind challenging behaviors and teach the habits of self-regulation. Call or text for a free consultation! support4soul@gmail.com • Support4Soul.com
Conscious Divorce Support

Dyan Ferguson, Intuitive and Transformational Life Coach
Certified Conscious Uncoupling Coach
415-300-0372 • Placerville, Fair Oaks, Virtual
Do you want to be happier? Is your life in transition? My specialties include Transformational and Intuitive Coaching that helps you develop a strong connection to your intuition and to find your voice, meaning and purpose; I'm also a certified Conscious Uncoupling Coach and will guide you to heal and create an even better life and relationship after a divorce or break-up. Mention WellBEing for free 30 minute consultation + $25 off your 1st session!  dyan@dyanferguson.com • dyanferguson.com

Jennifer Jackson ~ Discover The Missing Peace
EFT and Matrix Reimprinting Practitioner
530-417-3188 • Folsom & Virtual
Move through the pain of your divorce and create a beautiful new life faster and more effectively than you ever thought possible! As an EFT and Matrix Reimprinting Practitioner, I compassionately guide women from pain to peace, trauma to transformation. Mention WellBEing and receive $25 off your first session. DiscoverTheMissingPeace.com
Counseling & Psychology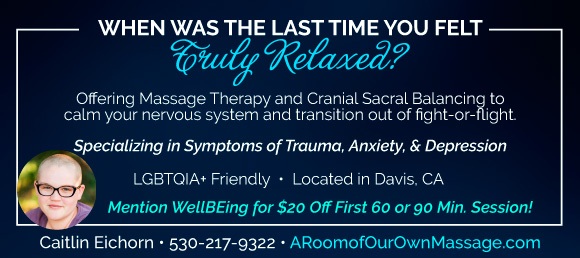 Andrea Lambert, RN, MS, LMFT #007126
EMDR Practitioner, Hypnotherapist
916-966-0411,  866-204-6384 • Sacramento
Are you ready to release your pain and take charge of your life? Andrea Lambert provides focused counseling with fast results, supporting you to release problems with anger, addictions, grief, stress, depression, anxiety, abuse, marriage/relationship issues, and more. Practicing in Sacramento for over 30 years, Andrea offers counseling for individuals, couples, teenagers and families. Affordable fees. Insurance accepted. Call and mention WellBEing for a free ½ hour consultation.  Andrea@AndreaLambert.com  •  AndreaLambert.com

Bojana Pandurevic, MS, MFT, Duma Integrative Healing
Psychotherapist, Shamanic Reiki Master Teacher
916-284-3845 •  Sacramento & Distance Healing
My strong intuition and extensive professional training help in creating a truly holistic and unique healing approach. I utilize a mix of tools, such as psychotherapy, energy healing, chakra balancing, sound vibration, crystals, essential oils, and art in order to bring a pure equilibrium within body, mind, and spirit, alleviating symptoms of trauma, anxiety, depression and unhealthy behavioral patterns so you may live a healthier, happier life. Allow your spirit to glow from within. Mention WellBEing for $30 off your first session.  dumainhealing@gmail.com • DumaIntegrativeHealing.com  


Daniel A Coffman, PhD, Transpersonal Health Psychologist (PSY22096), Board Certified in Biofeedback & Applied Psychophysiology (BCIA3105)
530-632-3997 • Auburn
Health challenges can be opportunities for spiritual growth. As a licensed psychologist, trained in both conventional and alternative systems of psychology, I provide treatments for anxiety, depression, insomnia, and chronic pain. In addition to working with health issues, I help individuals integrate exceptional experiences, such as OBE/NDE, precognitive dreams, paranormal events, and spiritual emergence. 134 Almond Street, Auburn. coffmanconsulting.com


Genevieve Fahey, LMFT #102153, Crystal Intuitive
530-755-6776 • Sacramento
I bring together the traditional scientific side of psychotherapy and spiritual/intuitive healing for a more holistic approach.I offer integrative psychotherapy, as well as crystal intuitive sessions, either of which can be a stand alone or used simultaneously within a session. I specialize in healing trauma, anxiety, depression, grief, and loss. Located at 1809 19th St. Mention Wellbeing for $20 off first session.  genevievefahey.com  • instagram.com/tellyourtherapist  • therapy@genevievefahey.com
Helene VanSant-Klein, BCPC, RN, MHt, LMFT, LPCC
LMFT #37131, LPCC #91, Certified in EMDR
916-342-0380 • Fair Oaks
Helene works with adults, couples, adolescents and children utilizing EMDR, Hypnotherapy, Regression, Brainspotting, Somatic Archeology, Heart Centered Therapy, Play Therapy, EFT, along with more traditional approaches to facilitate growth, healing and transformation. She is a Board Certified Professional Counselor, Board Certified PTSD Clinician, Diplomat, and Fellow of the American Psychotherapy Association, and is a Trauma Specialist, Certified Master Hypnotherapist, and an EMDRIA Approved Consultant. 4088 Bridge St. #5. HeleneVanSantKlein.com  


Kimberly Greene, LMFT & Trauma Specialist
916-757-2681 • Roseville
Kimberly works with adults, couples, adolescents and children utilizing EMDR, CRM, Brainspotting, Guided Imagery, Breath work, Heart Centered Therapy, Play Therapy and psychotherapeutic approaches to facilitate growth, healing and transformation. She is the creator of "Release & Renew Retreats", offering wellness retreats using mind-body connection and trauma modalities to help individuals become "unstuck". "Step into Self again!" K.Greene. 1899 E. Roseville Pkwy #100. Mention WellBEing for $20 off 1st session.   kimberlygreenelmft.com   •  ReleaseRenewRetreats.com

Dr. Marla McMahon ~ SATYA Well-Being, A Mindfulness Center
Clinical Psychologist PSY 15936, Yoga & Meditation Teacher
916-290-3994 • Sacramento
I collaborate with my clients using various mind-body approaches to therapy. Traditional psychotherapy and Yoga Psychotherapy are offered including: mindfulness meditation, iRest inspired yoga nidra, and gentle yoga.  Conditions treated are varied including:  women's issues, stress, anxiety, emotional eating, depression, trauma, insomnia, post-partum concerns, and life adjustment issues. mcmahonpsy@hotmail.com • Satyawellbeing.com
Sarah Astarte, Ph.D., Counseler, Reiki & Shamanic Healer
Inner Fire Intuitive Counseling & Spiritual Guidance
916-896-6259 • Fair Oaks
I have a Ph.D. in transpersonal psychology: Holistic counseling for your mind, body, and spirit. I am competent in serving diverse cultural populations and specialize in relationship issues, sex and gender, grief, body image, self-esteem, empowerment, creativity, dreamwork, and spirituality. Mention WellBEing for a free consultation + 20% off first session. sarah.astarte@gmail.com • innerfirespiritguide.com

Victoria Seeley, MFT
916-442-3737 • Midtown Sacramento
Every aspect of life involves relationship. How are yours doing? Our sense of who we are and our psychological health requires connection to others. Often these essential connections are injured, resulting in self-destructive behavior. I'll assist you with current situations causing distress and with long standing issues that are reinforcing ongoing negative patterns. Our goal together is your increased sense of well-being in both your personal and professional relationships.  VictoriaSeeley.com

End of Life Guidance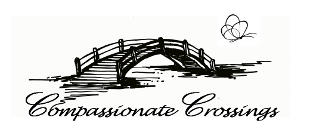 Compassionate Crossings ~ End of Life Specialists
916-712-3022 • Sacramento & Surrounding
In this journey of life, your ending will matter, to you and all those you leave behind. We will help you create a beautiful end-of-life transition, and provide loving guidance and support for all, until the very last moment. Mention WellBEing for a free phone consultation. mb.compassionatecrossings@gmail.com   •   compassionatecrossings.net  
Guided Imagery

Kathleen Emmons, CBT, CCHT, GIT
Wholistic Healing Artist ~ The House Call Therapist
530-350-7631 • Phone & Skype
Using words and images, Guided Imagery moves your attention away from the worry, stress and pain, helping you find your inner strength & balance. This brings the natural powers of the mind into health & healing allowing positive changes in thoughts, behaviors and improved coping skills to take place. Mention WellBEing for a free consult + 20% off 1st session/program. TheHouseCallTherapist.com • Kathleen@TheHouseCallTherapist.com

Life Coaching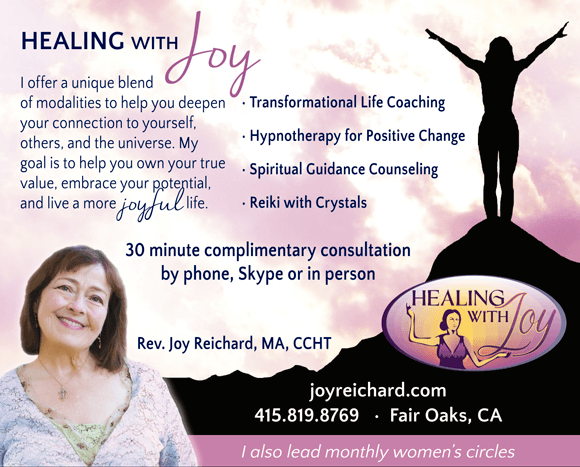 Adrienne L. Monarrez ~ Whole Body Wellness

916-436-6149 • Fair Oaks
Living a Life Full of Joy and Peace is Possible! I'll help you find your way back to a balanced, joyful life, by clearing out that which causes pain. Restore rhythm and flow, as you release anxiety, irritability, self-destructive behaviors, fear, guilt, insomnia, and unwanted thoughts. Mention WellBEing for a free 30 minute consult.  Adrienne@WBWFairOaks.com • WholeBodyWellnessFairOaks.com
Carmil Surritt, Life Coach
530-368-2058 • Placerville & Via Phone
The judgements and negative beliefs about ourselves, about life, and about others, become our greatest limitations. Are you interested in creating healthy, happy, safe, and functional relationships with yourself and others? My speciality is in helping you do just that! Visit my site to learn more and call/email today to schedule a free discover coaching session. carmilsurritt@gmail.com • CarmilSurritt.com


Corinne Lalanne, Life Coach, Holistic Health Practitioner
Hypnotherapist, Grief Facilitator, Energy Healer
916-765-1936 – Auburn & By Phone      
I offer an interactive, solution-focused holistic approach to help clients uncover their true potential and effectively address personal life challenges. By applying complementary therapy approaches and techniques, we'll unearth long-standing behavior patterns or negative perceptions that may be holding you back from experiencing a more fulfilling and meaningful life. Individual and group therapy; 10+ years experience as a grief and divorce recovery facilitator. Mention WellBEing for free 30 min telephone consult and $15 off your 1st session.  BalancedHealthandLife.com
Dr. Donna Lee, Life Coach, Psychic, EFT Practitioner
510-314-7606 • Fremont & Phone
With compassion and experience, I'm here to help with various life issues including: Self worth, self esteem, self confidence, and self love. Gain awareness and inner peace. Heal past emotional pain and hurt. Offering services over the phone and at 39159 Paseo Padre Pkwy #307 in Fremont. Call today for a free discovery session.
drdonnalee.com
 •  
drdonnalee@drdonnalee.com

Jenny Hughes ~ Lighter Life Coaching
Clear Your Path to Success
530-389-4141 • Virtual/Phone
I show unique & dedicated women, who are struggling with feeling stuck, overwhelmed, or underpaid, how to specifically increase income, eliminate debt, release extra weight, and get the love and respect they deserve! Proven results in as little as 4 sessions! Mention WellBEing for a complimentary, 30 minute clarity session.  LighterLifeCoaching.com

Kristin Carpio, Wellness Coach, Energy Therapist
PSYCH-K, Cranial Sacral Therapy, EFT, Massage
916-508-3623 • Sacramento/Land Park
Create and experience a joyful life as you move into the power of remembering who you truly are: A Creator. Are you creating your life from a place of love, joy, and freedom, with limitless possibility? Or are you creating from a place of fear, doubt, and uncertainty? Working with Kristin will help you to unlock your limitless potential by shifting how you perceive yourself and  the world around you, while feeling reassured that the power of the universe is always supporting you. Mention WellBEing for $25 off your 1st session. iLoveWellBEing.com/Kristin-Carpio


Laurie Ahlf ~ Karmic Release   
Erickson Professional Coach
916-549-9005 • Cameron Park 
The name 'Karmic Release' is inspired by the idea of fulfilling one's life purpose. We'll work together to consciously let go of what's holding you back, focus on what brings you joy, and purposefully plan to achieve your goals. Let nothing hold you back! Mention WellBEing to explore your creative side with a free one-hour art class after your first full coaching session! karmicreleasestudio.com


Leela Kelley, Transformational Life Coach   
Specializing in Empaths & Highly Sensitive People
916-202-2512 • Placerville, Phone, & Virtual
Are you an empath or highly sensitive person? Or simply feel stuck in life, unsure of your next move? Call me to get your life back on track, moving forward, & flowing in a positive direction. Renew your sense of purpose today! Visit my site to learn about my "Self Care Workbooks for Empaths" and "Empath 101" classes. Mention WellBEing for 20% off your 1st visit or package of 5. leelakelley@gmail.com • leelakelley.com


Melissa Camper, 
Holistic Life/Health/EO Coach, RYT
Radiant WellBeing ~ Life Coaching/Energy Work
916-217-5626 • South Lake Tahoe, Phone, Virtual
We are ALWAYS creating our reality, either Consciously or Unconsciously. My Holistic Coaching approach supports discovery of the Self, becoming Presence, and stepping into the most beautiful and empowered version of you to Consciously create the life you desire to experience. Energy Healing and Private Yoga sessions available as well.
Mention WellBEing for a free Self Empowerment Discovery Session and 15% Off 1st Coaching Package, Energy Session or Yoga Class.  
AlzzwelMel@Gmail.com  •
fb.me/AlzzwelMel


Melissa Pennel, CLC ~ Follow Your Fire 
Clarifying Purpose & Passion; Addiction Recovery
916-764-2583 • Phone/Virtual
Do you have a "great" life, but feel like something's missing? Are you searching for purpose, but also saddled with addictions? I help seekers create lasting changes, recover forgotten goals, and shed unhealthy habits to make room for possibilities. Mention WellBEing for a free discovery session and 20% off your first coaching package.  Followyourfire@gmail.com  •  Followyourfirecoaching.com  •  facebook.com/followyourfirecoaching


Terri Cevola, M.S., LMFT #33776
Personal Development Coach
916-512-0460 East Sacramento 
My passion is to empower others to create the lives that they desire. I can help you to practice Assertive and Effective Communication, affirm and celebrate your Inner Goodness, learn how to motivate yourself for Positive and Lasting Change, tap into your Strength, Courage, and Power, use your Creativity and Imagination for Happiness and Success. Mention WellBEing for a free 30 minute phone consultation.   tcevolamft@yahoo.com  •  iLoveWellBEing.com/Cevola


Tirrah
Thorp ~
Love Your Beliefs
Psych-K© Facilitator, Life Coach
916-259-0052 • Mobile & Virtual
Using an effective technique called Psych-K©, I'll help you discover the beliefs that are blocking you from achieving your goals. Together, we'll create new, self-enhancing beliefs and install them to unlock your potential to achieve your dreams! Some examples of issues I work with are: spirituality, self-esteem, relationships, grief/trauma, abundance, career, and health. 
Mention WellBeing for $25 off your 1st 1-hour session.
LoveYourBeliefs.com
•
Tirrah@Loveyourbeliefs.com
Spiritual Coaching/Counseling
Amber Choisella, Psychic Medium, Spiritual Teacher, Coach
The Free Spirited Spiritual Development and Coaching
916-266-3518 • Sacramento & Virtual
Are you experiencing spiritual and/or psychic phenomena and need help understanding it? Do you lack the confidence to implement your intuitive gifts and serve your life purpose? I'll help you understand the phenomena happening around you, build your confidence, and teach you how to recognize and work through energetic blockages allowing for transformation to the free spirit you are meant to be! Mention WellBEing for a free 30 minute psychic reading to gain clarity on areas of development and possible blockages. thefreespirit143@gmail.com • freespiritedness.net


Elena Hayden, Soul Coach Certified 
Owner, Inspire Your Truth Empowerment & Creative Center
916-769-8096 • 916-836-7679 • Folsom
Inspiring You to Live your Truth and Be Who You Are. Are you going through life changes? Do you want to know what's next and how to get there? As a Soul Coach, I'll assist you in gaining clarity and connecting with your truth so you can activate shifts forward to a life of joy & purpose. Certified in several modalities, my natural gifts are in listening, compassion, and intuitive guidance. Mention WellBEing and receive $25 off your first session. Findyourtruthguide.com • InspireYourTruth.com

Ellen Springwind ~ Springwind Healing Arts
Spiritual Life & Creativity Coach, Cellular Memory Release
916-342-2633 • Carmichael & Virtual
I provide a space of compassionate presence and safety as we get to the heart of what is causing painful emotional patterns. Through powerful mind/body techniques, you'll reduce stress and anxiety, heal trauma, increase vitality and presence, and develop deep self-trust and empowerment. 1948 Walnut Ave, Carmichael. Mention WellBEing for a 20 minute free call + 20% off an individual session or 10% off a coaching package.  SpringwindHealingArts.org 


Grace Arielle ~ Embodied Wellness 
Specializing in Embodiment and Sexual Abuse Healing
916-541-8232 • Virtual/Phone
Embody your wellness and experience the life and love you deserve! From a heart centered space, truth, clarity and insight naturally emerge. Remote phone sessions include intention development, intuitive counseling, energetic balancing, & guided visualization. Mention WellBEing for a free 15 minute consultation, plus free digital guided healing meditation with 1st session. Embodiedwellness.info
Julia Rinne, Soul Investigator


Deeply Holding Space for Your Transformation
916-764-7967 • Midtown & Virtual
Painful life experiences have negative impacts on each of us. The effects of these experiences can linger and cause deep emotional pain.  As a Spiritual Coach, I'll guide you into a place of deep understanding and acceptance of self and life. From this place, pain diminishes and is replaced by ease, peace, and a wonderful freedom to be you! I use several techniques that work with the negative beliefs you took on as a small child about yourself, others, and the world.  My clients report increasing comfort and ease in their life. Mention WellBEing for a free 1 hour consultation + 25% off of a Belief Transformation Basics class. jrinne@comcast.net 


Wendy Flaherty ~ Simple Spirituality & Soul-Full Living
Soul Realignment Reiki & Shamanic Healer, Teacher, Mentor
916-474-1341 • Carmichael & Phone
I have been helping people transform deep-seated patterns of disempowerment, fear and trauma for over 20 years. Learn to craft a life you love and navigate the rough spots with authenticity and presence. If you are serious about transformation and living your divine purpose, let's talk! I offer one-on-one sessions, circles and 12 week coaching programs. I also assist healers in creating and deepening their practices. It is my privilege to support you on your journey. Mention WellBEing for a 30 minute free call + 15% off an individual session or 10% off a coaching package.   
wendy@wendyflaherty.com • wendyflaherty.com