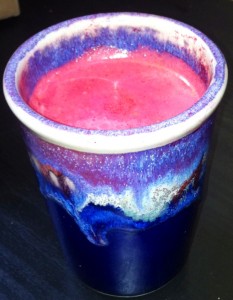 I had no intention of giving up my coffee (which I had about 4-5x's per week on average), but when I started juicing, something interesting happened:  My coffee desire/urge went away!
I started juicing each morning: veggies & fruits such as apples, beets, kale (dino, not curly), and carrots. Surprisingly, after a few days I realized "Hey, I haven't had any coffee!"  I didn't try to curb my coffee desire, it just happened naturally.
Juicing provides an AMAZING amount of very easily digestible nutrients and therefore no additional "energy boost" is needed.  Some like the taste of coffee or even enjoy the ritual of having their morning cup of joe…  but for some reason this all just went away for me.
About three weeks went by, juicing almost every day, and then "life got in the way" and I stopped for a few days.  My "coffee desire" returned, so I grabbed a coffee at my local spot at around 1pm in the afternoon; Unfortunately, that night I couldn't fall asleep until 5 in the morning! Apparently, my body had become very sensitive to the stimulant after not having it for so long.  Fortunately, it was the weekend, but I had a fun day planned with family and because of the lack of a good nights sleep, I had no energy to fully engage or simply feel my best.
So, today…  I start back on my morning juicing ritual!
The image featured in this post is the juice I'm drinking as I write this: 1 red bell pepper, 1 yellow bell pepper, 1 red beet, and 2 carrots.  I try my best to get all of my juicing fruits & vegetables organic for highest nutrient content and no chemicals/toxins.
Cheers and please let me know about your favorite juicing recipes 🙂