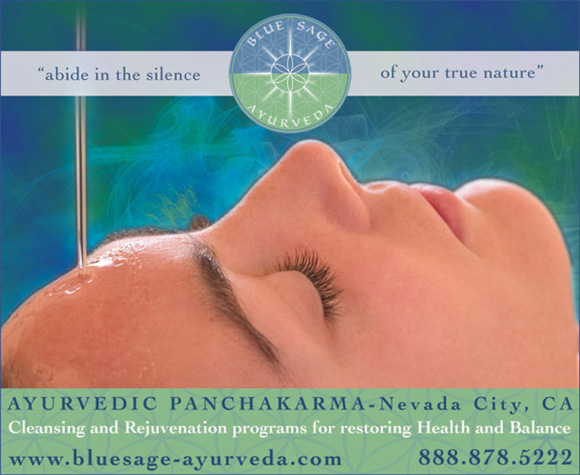 Interview with Ragaia Belovarac – Steward, Blue Sage Ayurveda, M.A., C.A.S., P.K.S., C.M.T. in Nevada City, CA
Hi Ragaia! What do you offer in the community?
Ayurvedic pancha karma programs, which include detoxification and rejuvenation therapies.
What led you to offering these services and classes?
A life journey of seeking and exploring holistic healing practices that I could integrate into my daily life.
What do you love most about what you do?
I love seeing others show up with the desire to create and better themselves. I feel blessed to have connected with the healing practices of Ayurveda, because it contains many potent tools that people can understand and integrate into their lives in ways that actually sustain healing. It's very gratifying to facilitate a space where people can come and explore their healing journeys.
What inspires you?
I am always inspired by observing the strength of the human spirit when a person becomes motivated to improve their health and quality of life. In that light, my focus is to help individuals make the shift from surviving to thriving by exploring their highest potential.
What are you looking forward to in the future?
For me, I see each day as the present "gift". Each time a new client arrives at Blue Sage Sanctuary a unique healing journey begins.  I do my best to be fully available for that journey. As we go forward in time, I continue to look forward to Ayurveda more fully integrating with other medical practices.
Why do you like being a part of WellBEing Resource?  
WellBEing Resource is a great platform for clients to find practitioners and see the unique gifts we all have to share within our community, in addition to offering a forum for fellow practitioners to network and refer.
Would you like to offer something special for the WellBEing readership?
10% off for anyone wanting to book an initial 2 hour Ayurvedic consultation.
Great ~ Thanks so much Ragaia!
Blue Sage Sanctuary is located in Nevada City, CA.
For more info on Ayurvedic services and Pancha Karma, visit: bluesage-ayurveda.com, email [email protected], or call 888-878-5222.