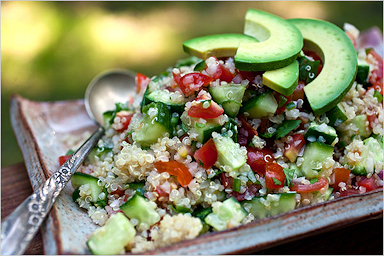 I love to make this awesome summer salad, inspired by a taste/sample I had at the Sacramento Natural Foods Co-op years ago. No specific measurements… play and add the amounts you prefer:
1) First, I cook up some quinoa, a complete protein vegan food!
2) Cool & drizzle on a little olive oil.
3) Next, I mix in chopped tomatoes & cucumbers, plus some feta cheese (see vegan "feta" recipe below), and perhaps some chopped, firm avocados (or slivers on top as pictured).
4) Often, I'll add in a little extra olive oil, if extra moisture is needed, at the end… Simple as that!
5) It's also nice to place on a bed of your favorite lettuce mix for added nutrients  
_________________________________________________
For Vegans, please substitute feta cheese with your own dairy-free alternative… home-made VEGAN FETA (which I got from the "Happy Herbivore" website):
1 pound extra-firm tofu
2 tbsp water
4 tsp yellow miso paste
¼ cup red wine vinegar
1 tbsp lemon juice
1 tsp salt
2 tsp basil, dried
1 tsp oregano or majarom, dried
¼ tsp rosemary, dried
2 tbsp nutritional yeast
Break tofu into a few large pieces in a mixing bowl and set aside. Whisk all remaining ingredients, except nutritional yeast, together. Pour over tofu and mix with your hands, crumbing the tofu into smaller pieces as you go. Set aside and let rest for 10 minutes. Sprinkle 1 tbsp of nutritional yeast over top and mix. Taste, adding more nutritional yeast if desired.